CPAs
You know better than anyone else that to remain profitable, you must consistently develop fresh sources of growth and income.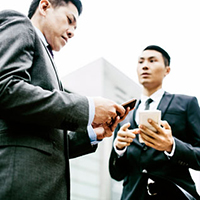 You are a trusted and respected financial professional. Your clients come to you to help them address their financial concerns.
Who better to trust than the one most familiar with their financial needs and wants? But have you been able to provide all that your clients need?
For some time now, CPAs have been able to get licensed to sell commissioned products, typically life insurance and securities. Tremendous opportunity now exists for you to provide your clients with the financial products and services they need. Are you ready to take advantage of those opportunities? The choice is yours.
Visit our Frequently Asked Questions.
If you are looking to expand your practice by providing an integrated approach, tax strategies and financial planning, our CPA Advantage Program may interest you. Through our unique planning process, we have what you need to take your business to the next level.
Training & Support
Revenue-Sharing Arrangements
Marketing Support
Consultative Services
Product & Design Services
Technical Reference Materials
From local CPE seminars to a national symposium, we provide you with information and resources to help you assist your clients with their financial goals.
Revenue-Sharing Arrangements
Traditional sources of revenue for CPAs have been eroding for years. To remain profitable, CPAs need to develop fresh sources of growth and income. By expanding your practice to include products and services traditionally offered only by insurance and financial services companies, you are not only able to broaden your practice, but your profitability as well.
Marketing Support
Leverage our turnkey marketing strategies, including client letters, marketing brochures and educational seminars for your clients.
Consultative Services
Are you working with small business owners or emerging to high net worth individuals? We are one of the few companies with a dedicated advanced sales team that is ready to help you with complex cases.
Product & Design Services
What's your question? With over 230 years of combined experience, our sales support team provides proactive, personalized outreach on key sales, marketing and product strategies.
Technical Reference Materials
Our proprietary reference materials provide you with answers to complex planning strategies including how they work with the Internal Revenue Code.
Our products are the solutions that help you help others. Our various financial services companies offer a full portfolio of life, annuity and investment products to help meet a variety of needs for individuals, families, professionals and business owners. We helped pioneer the concept of "Living Benefits" and the idea that life insurance is about protecting the living. Life Insurance Company of the Southwest, one of our member companies, was one of the first companies in the nation to develop an indexed annuity.
Want to join our team? Contact Us Now
Legal Disclosure