MAIN STREET BUY-SELL
Business owners work hard to build a business, you should work hard to help them protect what they have built. Business succession planning is an important consideration. Understanding and effectively communicating business transfer options involves identifying the various forms of buy-sell agreements as well as understanding the funding options. You should also be comfortable working with your clients other advisors to assure that a proper business valuation is in place and proper legal documentation is drafted.
The benefit of a buy-sell agreement cannot be overstated. A properly structured buy-sell can address and help eliminate potential problems or issues before they arise. For almost all business owners, a well designed and funded business succession plan may help bring security and peace of mind for the business owner's personal and business family.
Visit our Frequently Asked Questions.
Call us today at 800-906-3310, option 1.
National Life Group Agents
Please go here and then login into the Agent Portal to access all of the training material.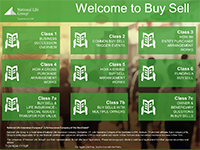 Learn all about Buy-Sell planning through this eight module video program.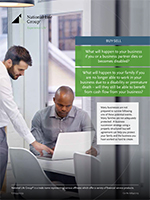 Key elements of Buy-Sell planning are reviewed in this technical guide.
The companies of National Life Group® and their representatives do not offer tax or legal advice. For advice concerning your own situation, please consult with your appropriate professional advisor.
Legal Disclosure