Split Dollar
Split dollar arrangements are a way for a business to help the business owner or key employees of the business acquire permanent life protection. It is also a way for an individual to assist another person (or trust) with the costs of acquiring a permanent life insurance policy.
Click on the video button to learn more about how split dollar loans work.
Call us today at 800-906-3310, option 1.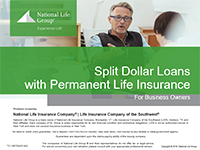 Split Dollar Loan for an Owner (Powerpoint)
Review the strategy of providing benefits to the owner of a corporation through a split dollar loan agreement.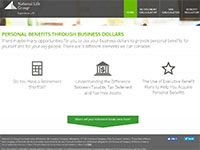 Executive Benefits Storyboard
This presentation lets you take a journey through the benefits of using business funds to secure personal benefits. You have the opportunity to review:
Retirement funding shortfalls
The difference between taxable, tax deferred and tax free growth
An executive benefit decision tree which will help you identify the executive benefit program that may be most appropriate based on the answers to just a few questions.
National Life Group Agents
Please go here and then login in to the Agent Portal to access all of the training material.
Want to join our team? Contact Us Now