Qualified Plans
Qualified plans have become a valued benefit to employers and their employees. The key to the qualified plan market is the tax status conferred on these plans. This includes:
Tax deductible contributions by the business
Contribution not included in the participants current income
Tax deferred growth
This tax treatment often makes a qualified plan a compelling tool for the business owner. In addition to these tax advantages, key elements of a qualified plan include:
Retirement income
The opportunity to purchase life insurance with pretax dollars
A variety of plan designs that can be molded to meet your business and personal needs
A competitive benefit to help a business owner attract and retain highly qualified employees
To meet the needs of your business owner client it is important that you have an understanding of the advantages qualified plans provide, as well as the various types of plans available. The material in this area will provide you with tools to communicate the vital concepts and information on how to proceed with a qualified plan case.
Call us today at 800-906-3310, option 1.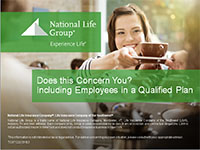 The Cost of Covering Employees
Review the cost of including employees and why this ultimately benefits the owner of the business.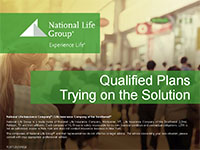 Identifying Options and Benefits
An overview of Qualified Plans.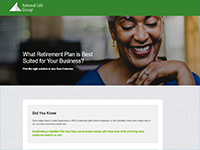 Qualified Plan Decision Tree
Answer some basic questions and you will receive a preliminary suggestion as to the most appropriate qualified plan to use.
These materials have been developed to help you effectively discuss the benefits and options available within Qualified Plans.
National Life Group Agents
Please go here and then login in to the Agent Portal to access all of the training material.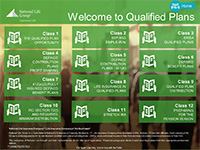 Learn all about Qualified Plans through this video program.
Want to join our team? Contact Us Now
Qualified plans are offered and administered independently of the companies of National Life Group. National Life is bound only by the terms of the life insurance contracts issued by the Group insurance companies.
The companies of National Life Group® and their representatives do not offer tax or legal advice. For advice concerning your own situation, please consult with your appropriate professional advisor.
Legal Disclosure
TC98217(1117)P