Key Person
Key person coverage is life insurance purchased by a business on an owner or an employee whose services contribute substantially to the success and continuity of the business. The insurance policy is owned and payable to the business. The insurance is in place to protect the business from the loss of a key person.
Click on the video button to learn more about how key person coverage works.
Call us today at 800-906-3310, option 1.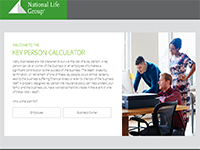 Key Person Calculator
This presentation lets you take a journey through the benefits of protecting a business with key person insurance.
These materials have been developed to help you effectively discuss the options available for Key Person.
Want to join our team? Contact Us Now