CONTACT
Convenient Access to Your Policy Anytime, Anywhere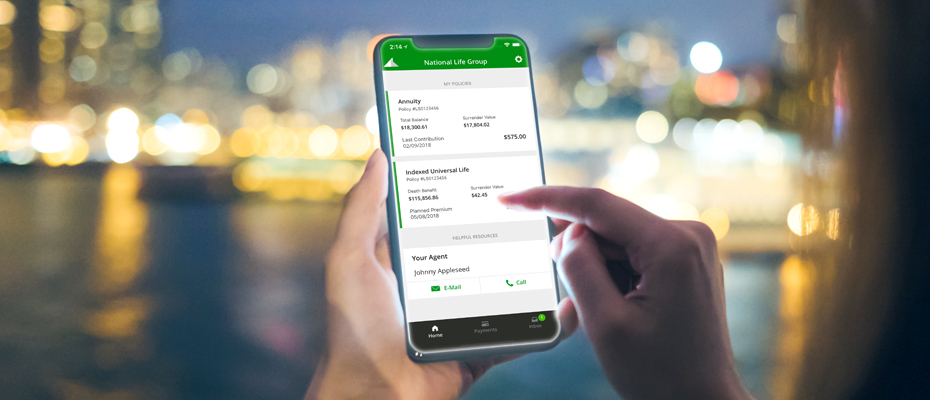 Did you know you can use self-service to:
Access your policy details and keep an eye on your balances
Make address changes, beneficiary changes, etc.
Make policy payments and pay off loans
Set up and manage auto payments
Sign up for account alerts
Access your agent's contact info and more…
Notice:
National Life Group does not accept payments from third party sites.
Please be vigilant regarding websites impersonating National Life Group or accepting payments to National Life Group or LSW policies.
Go Mobile!
Be in the know while on-the-go – download our app for your mobile device from your app store.
For general company inquiries, please use our Contact Form. Please note, we cannot accept policy related inquiries through this form.
Vermont Campus
(Please direct all physical mail here)
1 National Life Drive
Montpelier, VT 05604
800-732-8939
Equity Services, Inc. (ESI)
1 National Life Drive
Montpelier, VT 05604
800-344-7437
Texas Campus
15455 Dallas Parkway Ste. 800
Addison, TX 75001
800-732-8939
Charitable Giving and Sponsorship
The National Life Group Foundation does good in the communities in which we live and work by supporting nonprofit and educational organizations. Learn more about our Foundation, what we fund and how to apply. Contact us at giving@nationallife.com if you have any questions.
Media Relations
Media inquiries may be directed to Daphne Larkin, Media Relations Director at (802) 229-3607.
Employee Verification
To obtain employment, income or social service verification please visit www.vaultverify.com and use Company Code 70917 to submit your request.
E-Mail Encryption
National Life Group uses encryption of e-mail to protect personal information.
If you are a policyholder requiring assistance with viewing an encrypted message received from National Life Group, please use one of the contact methods above.
If you are a National Life Group agent or other e-mail recipient requiring assistance with viewing an encrypted message, contact the National Life Group HelpDesk through e-mail at HelpDesk@NationalLife.com or toll-free at (877) 654-3499 for assistance.
Information for Victims of Domestic Violence or Abuse
National Life Insurance Company and Life Insurance Company of the Southwest (collectively, the "Company") have established policies and procedures to safeguard personal information for victims of domestic violence or abuse. Victims of domestic violence or abuse may notify the Company and request confidential treatment of their personal information, or that of any child residing with them, including by providing alternative contact information.
If a victim of domestic violence or abuse wishes to revoke a previous request, they must submit to us in writing a sworn statement revoking the request.
If you wish to safeguard your information and/or provide alternative contact information, please send your written request for protected person status to:
Email: NLGCompliance@NationalLife.com
Mail: National Life Group
Market Conduct and Compliance-M530
One National Life Drive
Montpelier, VT 05604
New York Insurance Law Section 2612 and New York Domestic And Sexual Violence Hotline Information