EQUITY SERVICES, INC. (ESI)
Established in 1968, ESI and ESI Financial Advisors (EFA) are the broker-dealer and registered investment adviser member companies of National Life Group.
ESI's foundation is rooted in the belief that everyone should have access to the responsible, goal-oriented advice that an advisor can provide.
The Role of a Broker Dealer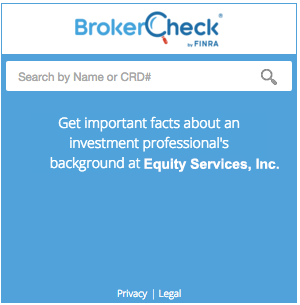 Investment professionals rely on a partnership with a broker-dealer in order to help serve their clients. Just as hospitals provide the support structure physicians and surgeons need to practice medicine, broker-dealers also serve many important functions on behalf of financial practitioners and their clients. This is why it is imperative that investment professionals conduct their practices through an experienced broker-dealer such as Equity Services, Inc. (ESI).
For example, a broker-dealer provides a support staff and technology platforms to execute the recommendations an adviser and their client agree to implement. ESI provides access to the infrastructure to buy, sell, service and report on a vast array of investment solutions.
ESI has an outstanding team of dedicated professionals and has contracted with some of the nation's largest and most reputable financial firms to carry out some of these critical functions.
Fee-Based Services
ESI Financial Advisors (EFA)
In addition to being registered as a broker-dealer, ESI is also a federally registered investment adviser called ESI Financial Advisors (EFA). EFA provides access to platforms and sponsors that offer fee-based account management, including ESI Illuminations, an advisory platform sponsored by ESI. ESI Illuminations includes a wide range of well-known money managers utilizing a wide range of investment philosophies.

With fee-based products, EFA, its adviser representatives and third party managers are paid a fee for managing the assets of clients, as opposed to charging a transactional commission.
Regulatory Information
Client Relationship Summary
Brokerage Agreement (Client Brokerage Transaction and Service Fee Schedule)
Revenue Sharing Disclosure
Client Transaction and Service Fee Schedule for Managed Programs
Business Continuity Statement
Important Account Info
Form ADV Part 2A (48596)
Form ADV Part 2A App 1 - Appendix 1: ESI Compass (53945)
Form ADV Part 2A - Appendix 1: ESI Directions (51938)
Form ADV Part 2A - Appendix 1: Illuminations (53821)
ERISA Revenue Sharing Disclosure
Regulation BI Disclosure
SEC-Required Report on Routing of Customer Orders
(For links identified as xml version: to view correctly, please right click on the link, choose "save link as...", save it to your computer, then go to the path and open it with Excel)
National Life Group® is a trade name of National Life Insurance Company, Montpelier, VT and its affiliates. Equity Services, Inc. (ESI), Member FINRA/SIPC, is a Broker/Dealer and Registered Investment Adviser affiliate of National Life Insurance Company. In CO, MO, NH and WI, ESI operates as Vermont Equity Services. One National Life Drive, Montpelier, VT 05604. (800) 344-7437. Securities and investment advisory services are offered solely through registered representatives and investment adviser representatives of Equity Services, Inc. Investing involves risk, including the potential for loss of principal. Past performance does not guarantee future performance. ESI Illuminations is an advisory platform sponsored by Equity Services, Inc. (ESI) through an ongoing agreement with Envestnet. Envestnet is independent of ESI and its affiliates.