The ideal candidate for the Retained Earnings Trifecta is:
a C Corporation with excess retained earnings.
a business that requires life insurance coverage on the owner.
a business owner who wants additional personal insurance and retirement accumulations.
The Retained Earnings Trifecta shows one possible way to solve three of the most vexing challenges faced by a business owner:
Paying more tax and penalties than may be necessary
Providing insurance funding to the business to cover a host of problems, including the loss of a key person
Having tax efficient retirement accumulations and income tax free death benefit for yourself and your family.

Learn the basic concept of the Retained Earnings Trifecta.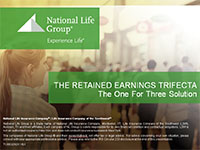 This Power Point provides a detailed review of the technique and a case study.
Point-of-sale materials have been developed to help you present the Retained Earnings Concept to your business owner prospects and clients.
If you have additional questions or need further support, please contact the Advanced Markets Team.
National Life Group Agents
Please go here and then login into the Agent Portal to access all of the training material.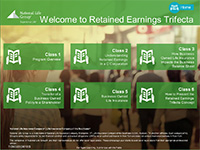 Learn all about Retained Earnings through this video program.