The Retained Earnings Trifecta
Business owners work hard to find success. Their goal is to grow and prosper. They're in business to generate a profit and they would like to use those profits to provide personal benefits for themselves and their key employees.
One way that business owners can do this is by leveraging business dollars to buy life insurance on his/her life and the life of key employees. The premium paid will reduce their business cash account, and as the cash value of the life insurance grows it becomes an asset on the balance sheet. This process offsets a business owners retained earnings.
If the insured dies, the death benefit received is income tax free (assuming the requirements of IRC Section 101(j) are met) and can be used to help the business survive the death of a key person. The cash value, if any, can be used in the event the key person voluntarily leaves or becomes disabled.
Note that surrendering the cash value will cause the policy to lapse, but it is assumed that the death benefit is no longer needed at this point. Earnings in the policy would be taxable. Surrender charges may reduce the available cash value during the early years of the policy.
Call us today at 800-906-3310, option 1.
National Life Group Agents
Please go here and then login into the Agent Portal to access all of the training material.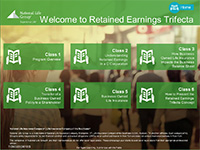 Learn all about Retained Earnings through this video program.
The companies of National Life Group® and their representatives do not offer tax or legal advice. For advice concerning your own situation, please consult with your appropriate professional advisor.
Legal Disclosure