National Life Group Sponsors Spectrum Sleep Out to Combat Youth Homelessness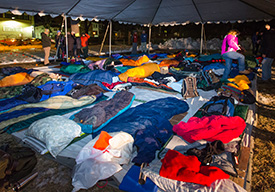 Montpelier, VT - (March 16, 2023) National Life Group is sponsoring Spectrum Youth & Family Services Sleep Out 2023, in which participants sleep outside to raise awareness and support in combatting youth homelessness.
An annual fundraiser, the Sleep Out brings in about $300,000 to help combat homelessness for Vermont teens.
Since 2015, The National Life Group Foundation has supported Spectrum through grants and National Life has supported its work through sponsorships. Spectrum has also been a recipient of National Life's Share the Good, an employee donation match program, as well as being a popular place for employee volunteer hours to be used.
National Life employees have participated in the Sleep Out, including Executive Vice President of Independent Distribution Matt Frazee, who also serves on the Spectrum board.
Founded in 1970, Spectrum Youth & Family Services is a nationally recognized leader in helping youth ages 12-26 and their families turn their lives around. Each year, they serve 1,500 teenagers, young adults, and their family members.
Its mission is to empower teenagers, young adults, and their families to make and sustain positive changes through prevention, intervention, and life skills services. We envision a world where those who face great challenges realize their vast human potential.
"Serving on the board and participating in the annual Sleep Out is my way of supporting the critical work that Spectrum does to support our most vulnerable young people in Vermont," Frazee said. "The Sleep Out is a powerful and humbling experience and this sponsorship is one more way National Life can fulfill its mission of doing good in the community."
Learn more here about National Life Group's corporate philanthropy with programs that include a commitment to ending childhood hunger, children's mental health, LifeChanger of the Year and other social responsibilities.
About National Life Group
National Life is here to bring you peace of mind. We've been keeping our promises since 1848. Believe in tomorrow, do good today. Learn more at NationalLife.com
Contact: Daphne Larkin, corporate communications, National Life Group, 802.229.3607.
National Life Group® is a trade name of National Life Insurance Company, founded in Montpelier, Vt., in 1848, Life Insurance Company of the Southwest, Addison, Texas, chartered in 1955, and their affiliates. Each company of National Life Group is solely responsible for its own financial condition and contractual obligations. Life Insurance Company of the Southwest is not an authorized insurer in New York and does not conduct insurance business in New York.