National Life Group recognized with Cigna Healthy Workforce Designation™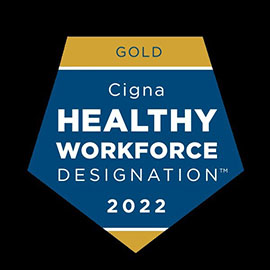 Montpelier, VT - (February 14, 2023) Cigna has selected National Life Group as a recipient of their Gold level Healthy Workforce Designation™ for demonstrating a strong commitment to improving the health and well-being of its employees through a workplace wellness program.
National Life is recognized for its deep and comprehensive suite of benefits that cover the physical, emotional, social, intellectual and financial aspects of a person's life. Highlights include: world class health insurance options; onsite fitness centers; excellent paid family leave; generous paid time off; employee recognition programs; adoption assistance; 40 hours of paid volunteer time; education assistance; charitable gift match; pet insurance; life insurance and discounts on company products. See the whole list here.
"At National Life, we say 'why choose when you can have it all,' and we really mean it," Director of Benefits Michele Granitz said. "Employee wellness is our top priority because employees are our most important asset. It is an honor to be recognized as a leader in this important area."
Investing in an effective workplace wellbeing program drives value for employers. Senior executives surveyed as part of an Economist Impact study commissioned by Cigna reported greater productivity, stronger staff morale and motivation, and greater retention and loyalty as the most significant business outcomes of a healthy workforce.
Additionally, a Gallup Report finds that on average, companies with high employee engagement are 23 percent more profitable.
"As a consultative growth partner, Cigna knows that a healthy workforce is critical to business growth," said Cindy Ryan, executive vice president and chief human resources officer. "We are honored to recognize organizations like National Life Group who share our commitment to workplace wellness. Creating a healthy work culture is of critical importance, and many employers are seeing increased employee engagement, productivity, and retention as a result of whole person health wellness initiatives."
The Cigna Healthy Workforce Designation, formerly known as the Cigna Well-Being Award, evaluates organizations based on the core components of their wellbeing program, including leadership and culture, program foundations, program execution, whole person health, and utilization of Cigna's capabilities. Organizations recognized with this designation set the standard of excellence for whole organization health. Cigna is proud to honor National Life Group with the Gold level designation for having created a healthy work culture through a well-established, progressive, and measurable employee well-being and engagement program.
About National Life Group
National Life is here to bring you peace of mind. We've been keeping our promises since 1848. Believe in tomorrow, do good today. Learn more at NationalLife.com
Contact: Daphne Larkin, Corporate Communications, National Life Group, 802.229.3607
National Life Group® is a trade name of National Life Insurance Company, founded in Montpelier, VT, in 1848, Life Insurance Company of the Southwest, Addison, Texas, chartered in 1955, and their affiliates. Each company of National Life Group is solely responsible for its own financial condition and contractual obligations. Life Insurance Company of the Southwest is not an authorized insurer in New York and does not conduct insurance business in New York.