National Life Group promotes Chief People Officer Michael Veilleux to Senior Vice President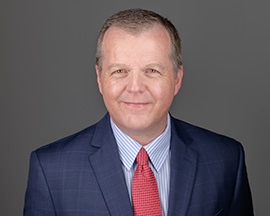 Montpelier, VT - (February 21, 2023) National Life Group Chairman, CEO and President Mehran Assadi announced the promotion of Chief People Officer Michael Veilleux to Senior Vice President.
Veilleux joined National Life in 2008 as a recruiter in the People Center, National Life's human resources department. He then advanced, holding a variety of positions in the People Center including leading National Life's team of business partners. In 2017 and 2018, he served as Interim Chief People Officer and in May 2021, he was appointed Vice President and Chief People Officer, overseeing all people-related functions, including organizational learning and development, talent acquisition and retention, and the company's culture. In March 2022, he was also given responsibility for corporate communications and community relations. Under Veilleux's leadership as Chief People Officer, National Life has strategically repositioned its recruiting initiatives, organizational development, benefits/rewards/wellness, enhanced employee engagement and continued its commitment to lifting its culture through stronger and clearer communication.
Before joining National Life, Veilleux held leadership roles in several New England based companies with a focus in sales, operations and human resources.
"We are fortunate to have a superb leadership team within our People Center who genuinely care about all of us. As a member of my executive leadership team, Michael has coached all of us to become better versions of ourselves to serve our great company," Assadi said. "I have complete confidence that under Michael's leadership we will continue to earn the privilege of recruiting and retaining our most important asset—our people."
National Life was recently recognized by Cigna with a Healthy Workforce Designation™. Learn more here.
"I continue to be excited to serve National Life Group, a very special company celebrating 175 years in business this year," Veilleux said. "Our unique culture powered by servant leaders with a learners' mindset has been, and will continue to be, our competitive advantage. Providing meaningful development opportunities to our associates remains one of our top priorities."
About National Life Group
National Life is here to bring you peace of mind. We've been keeping our promises since 1848. Believe in tomorrow, do good today. Learn more at NationalLife.com
Contact: Daphne Larkin, corporate communications, National Life Group, 802.229.3607.
National Life Group® is a trade name of National Life Insurance Company, founded in Montpelier, Vt., in 1848, Life Insurance Company of the Southwest, Addison, Texas, chartered in 1955, and their affiliates. Each company of National Life Group is solely responsible for its own financial condition and contractual obligations. Life Insurance Company of the Southwest is not an authorized insurer in New York and does not conduct insurance business in New York.