National Life Group marks 175 years of
Doing Good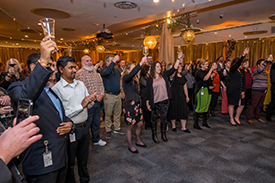 Montpelier, VT - (November 13, 2023) On this day in 1848, National Life was founded and chartered by the Vermont Legislature in Montpelier, Vermont, as one of the first mutual life insurance companies in the country and the first with a national vision.
One of the oldest and largest employers in the state and a leader in the insurance industry, National Life welcomed Gov. Phil Scott on Thursday, Nov. 9, for a gala event celebrating 175 years of doing good. In attendance were hundreds of employees, agents, retirees and board directors. Distinguished guests included recently retired longtime Board Director David Coates, who was honored with a Resolution celebrating his 30 years of service to the company.
Held in the company's cafeteria, which was transformed for the occasion, cadets from the nation's oldest Senior Military College, Norwich University, volunteered welcoming guests on the red carpet.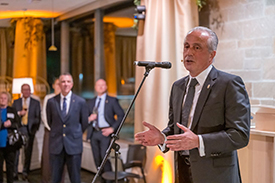 "Our anniversary is special because of what we have accomplished collectively, supporting our clients and bringing peace of mind to them every single day and fulfilling the promises we have made to them for 175 years," Chairman, CEO and President Mehran Assadi said to a packed room. "You have been part of an amazing story. Between 2016 and 2022, we have gone from $100 billion dollars to over $300 billion dollars of in-force insurance. Behind those numbers are families, individuals and business owners.
Assadi also cited milestones such as: National Life as ninth largest individual life insurance company in the country; a recent Forbes ranking of top 50 in the nation; being the number one provider of indexed universal life insurance; and the number one provider of employer-sponsored K-12 educators.
"As a company, our values of Doing good, Being good and Making good – which is our intentions, actions and outcomes – says what we are all about. The DNA of this company is a spirit of service and servant leadership."
At the event, Gov. Scott congratulated National Life and announced today as National Life Group Day in an Executive Proclamation.
"As governor, I know how important businesses are to our state providing jobs, supporting our families, helping our communities and generating the revenue we need to help Vermonters who are struggling," Gov. Scott said. "And National Life, for nearly two centuries, has been doing all these things for Vermont."
The evening included a string quartet in the lobby, where guests were welcomed with champagne. The speaking portion was kicked off with the National Anthem performed by National Life Chief Operating Officer Bob Cotton.
See more photos here.
Learn more here about National Life Group's corporate philanthropy with programs that include LifeChanger of the Year, Do Good Heroes, a commitment to ending childhood hunger and supporting children's mental health, among others.
About National Life Group
National Life is here to bring you peace of mind. We've been keeping our promises since 1848. Believe in tomorrow, do good today. Learn more at NationalLife.com
Contact: Daphne Larkin, corporate communications, National Life Group, 802.229.3607.
National Life Group® is a trade name of National Life Insurance Company, founded in Montpelier, Vt., in 1848, Life Insurance Company of the Southwest, Addison, Texas, chartered in 1955, and their affiliates. Each company of National Life Group is solely responsible for its own financial condition and contractual obligations. Life Insurance Company of the Southwest is not an authorized insurer in New York and does not conduct insurance business in New York.