National Life appoints Conor Boyd of Thoroughbred Advisors as General Agent for Upstate New York region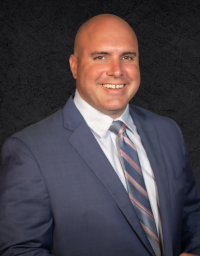 Montpelier, VT - (November 8, 2023) National Life Group has appointed financial services veteran Conor Boyd as its General Agent of the Affiliated Channel's White Plains and Capitol Region agency, headquartered in White Plains, New York, beginning November 1, 2023.
Boyd, a highly regarded professional with a longstanding affiliation with National Life Group since 2015, has consistently received recognition as a Chairman's producer. In 2022, Conor won the National Life "Do Good Award" for his service on the board of Berkshire Farm Center and Services for Youth. He has also been recognized as National Life's top Associate General Agent for the past three years.
"Conor is a dynamic leader with over 20 years growing a successful practice, helping clients achieve financial security and building a talented team of agents and advisors," said Rebecca Dunne, Field Executive Vice President for National Life's Affiliated Distribution.
"I have been blessed to spend decades in an industry I love, serving thousands of clients and Advisors over the years," Boyd said. "It has been an honor to work with our partners at National Life Group and Equity Services, Inc. For advisors seeking independence of thought, broad access to tools and strategies needed to support their clients' financial goals, and a desire to maintain ownership of their practice, I believe there is no better place to grow. We still support and believe in the entrepreneur! With a network of over 129 advisors, 242 brokers, offices throughout the country, and flagship offices in Latham, Queensbury, White Plains, Rochester, Manhattan, Independence Ohio, and Lawrence Pennsylvania, we plan to rapidly grow our team and services. We invite those interested in joining our team as advisors to know that we are here and ready for your expertise."
Boyd is a graduate of Siena College, where he actively participated in Division I Football and Lacrosse. He is a devoted husband to Lisa Boyd and a proud father of three young children – Brooklyn, Easton, and Taylor. Conor and his family share a passion for exploring the Adirondacks and relishing the tranquility of their home on Lake George.
National Life Group eagerly anticipates the continued success and innovation that Boyd will bring to the Upstate New York region.
About National Life Group
National Life is here to bring you peace of mind. We've been keeping our promises since 1848. Believe in tomorrow, do good today. Learn more at NationalLife.com
Contact: Daphne Larkin, corporate communications, National Life Group, 802.229.3607.
National Life Group® is a trade name of National Life Insurance Company, founded in Montpelier, Vt., in 1848, Life Insurance Company of the Southwest, Addison, Texas, chartered in 1955, and their affiliates. Each company of National Life Group is solely responsible for its own financial condition and contractual obligations. Life Insurance Company of the Southwest is not an authorized insurer in New York and does not conduct insurance business in New York.