Rebecca Dunne Named Affiliated Channel Senior Vice President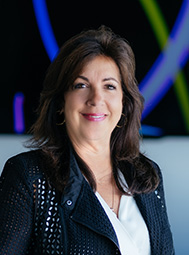 Montpelier, VT - (July 20, 2022) Rebecca Dunne has been promoted to Senior Vice President of Affiliated Distribution effective July 15th.
A third-generation insurance and financial services professional, Dunne has been with National Life since 2016 and brings three decades of industry experience to her new role.
Dunne replaces recently retired Pam Blalock who served in this role at the company for the previous 10 years.
"I look forward to continuing to build, grow, and develop the Affiliated Channel by leveraging our existing strengths and building new opportunities," said Dunne. "I am also excited about the future of women in our business and focused on helping our leaders develop organizations and agencies that attract more people of all genders and backgrounds to our business. We need to do more to build leadership that reflects the communities we serve. We need to be deliberate about looking at our diversity through the lens of our communities."
Dunne joined National Life from Penn Mutual where she led their Career Channel.
Before that, she worked at Prudential where she held various home office leadership positions including Career Agency distribution and Prudential Annuities.
She lives in Bernardsville, New Jersey with her husband, Michael, and is the mother of four children.
National Life is here to bring you peace of mind. We've been keeping our promises since 1848. Believe in tomorrow, do good today. Learn more at NationalLife.com
Contact: Beth Rusnock, corporate communications, National Life Group, 802.229.7214.
National Life Group® is a trade name of National Life Insurance Company, founded in Montpelier, Vt., in 1848, Life Insurance Company of the Southwest, Addison, Texas, chartered in 1955, and their affiliates. Each company of National Life Group is solely responsible for its own financial condition and contractual obligations. Life Insurance Company of the Southwest is not an authorized insurer in New York and does not conduct insurance business in New York.
TC107754(00519)1