Four-Time Olympian Chaunté Lowe Joins Forces with National Life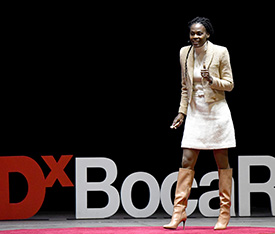 Montpelier, VT - (July 22, 2022) Four-time Olympian Chaunté Lowe has partnered with National Life Group to inspire others to overcome obstacles and live their best lives.
A former math teacher and triple negative breast cancer survivor, Lowe also beat Covid-19 to share her story with others about how to persevere no matter what life throws at you.
"Since I was four years old, I wanted to be an Olympic athlete. I made sacrifices to make my dream come true, and it did," explains Lowe. "Then I was diagnosed with cancer. When you least expect it, life drops an obstacle in your path. How you decide to move forward and with whom makes all the difference. That's why I'm working with National Life. They know the power of being there for others when life unexpectedly takes a sharp turn."
After Lowe did not qualify for the Olympic trials as she recovered from Covid, she took to the road to tell her story, inspiring more than 300 million.
"Chaunté symbolizes strength against all odds," said Mehran Assadi, CEO, Chairman and President of National Life. "At National Life, we are focused on our cause and that's why we work hard to support middle America, the most underinsured segment of the market to make sure they can overcome the odds, too. Stories like Chaunte's are why we are in this business."
Through its products, National Life helps provide peace of mind to cancer patients and survivors. It also sponsors the National Life Cancer Treatment Center at Central Vermont Medical Center and raised more than a quarter of a million dollars for Branches of Hope, the cancer patient fund at CVMC through the National Life Group Do Good Fest.
#shareyourstory
About National Life Group
National Life is here to bring you peace of mind. We've been keeping our promises since 1848. Believe in tomorrow, do good today. Learn more at NationalLife.com
Contact: Beth Rusnock, corporate communications, National Life Group, 802.229.7214.
National Life Group® is a trade name of National Life Insurance Company, founded in Montpelier, Vt., in 1848, Life Insurance Company of the Southwest, Addison, Texas, chartered in 1955, and their affiliates. Each company of National Life Group is solely responsible for its own financial condition and contractual obligations. Life Insurance Company of the Southwest is not an authorized insurer in New York and does not conduct insurance business in New York.
TC127722(0722)1