National Life Group to host holiday event for homeless children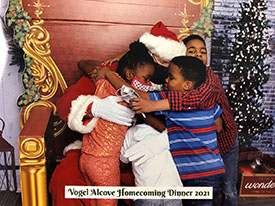 Addison, TX - (November 29, 2022) National Life Group (NLG) will be spreading the good 4:30 – 7:30 p.m. on Tuesday, December 6 with a holiday event supporting Vogel Alcove, an early childhood development and parent opportunity center for homeless families. Vogel Alcove children, families, and the staff are invited to the event at Dallas' Old City Park.
For the second year, NLG will provide a delicious holiday meal as well as fun activities and pictures with Santa Claus.
In November 2021, 60 NLG employee volunteers and community partners served meals to 250 guests. Children were entertained by a bubble show and visits with Santa. Guests left the event with take-home food, a gift bag, diapers, and children's books.
"Our founders had a national vision to take care of the underserved," National Life Group Chairman, CEO and President Mehran Assadi said. "It is a privilege to serve those in our communities."
This year's partners include NTT Data and Cognizant.
"The children and families we serve at Vogel Alcove are often recovering from severe trauma and they're just getting back on their feet—so the holidays can be difficult," Vogel Alcove President and CEO Karen Hughes said. "Joyful holiday moments like this event are such a wonderful way to uplift these families and celebrate our blessings. We are so excited to host this event with National Life Group for a second year."
Learn more here about National Life Group's corporate philanthropy with programs that include a commitment to ending childhood hunger, children's' mental health, LifeChanger of the Year and other social responsibilities.
About Vogel Alcove
Since 1987, Vogel Alcove has provided a broad array of therapeutic services for children and families recovering from the trauma of homelessness. Through 5 key programs--Early Childhood Development, a School-Age Program, Health and Mental Healthcare, a Family Support Program, and a Developmental and Behavioral Health Program, Vogel Alcove rewires brains, repairs hearts, and restores families. Vogel Alcove is a nonprofit on a mission to help young children and families overcome the lasting and traumatic effects of homelessness. It is our vision that every child in our community has a home, a self-sufficient family, and a foundation for success in school and life.
About National Life Group
National Life is here to bring you peace of mind. We've been keeping our promises since 1848. Believe in tomorrow, do good today. Learn more at NationalLife.com
Contact: Daphne Larkin, Corporate Communications, National Life Group, 802.229.3607
National Life Group® is a trade name of National Life Insurance Company, founded in Montpelier, VT, in 1848, Life Insurance Company of the Southwest, Addison, Texas, chartered in 1955, and their affiliates. Each company of National Life Group is solely responsible for its own financial condition and contractual obligations. Life Insurance Company of the Southwest is not an authorized insurer in New York and does not conduct insurance business in New York.