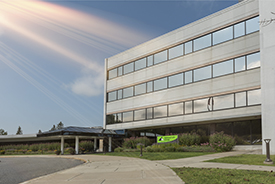 Montpelier, VT (May 25, 2021)
- National Life will host a Covid-19 vaccination clinic this week, which will be free and open to the public, in support of Gov. Phil Scott's commitment to getting more than 80 percent of the eligible population vaccinated for at least the first time.
The clinic will take place inside the company's cafeteria at 1 National Life Drive on Friday from 9 a.m. to 3 p.m. The state Agency of Human Services and the Vermont National Guard are organizing all of the details.
National Life offered its Montpelier headquarters to match the governor's desire to reopen the state fully as soon as a minimum number of shots had been administered.
"We share Governor Scott's goal of getting Vermont back to work," said Mehran Assadi, National Life's Chairman, President and CEO. "The state has done a great job of organizing this vaccination campaign. National Life wants to do its part to get us over the top. We're glad to welcome anyone who can make it on Friday."
There is plenty of parking at National Life, which can be reached by taking a right at the first light off Exit 8 of Interstate 89. Signs will be posted to guide visitors to the appropriate entrance from the parking lots.
National Life is here to bring you peace of mind. We've been keeping our promises since 1848. Believe in tomorrow, do good today. Learn more at NationalLife.com
Contact: Ross Sneyd, corporate communications, National Life Group, 802.249.7506.
National Life Group® is a trade name of National Life Insurance Company, founded in Montpelier, Vt., in 1848, Life Insurance Company of the Southwest, Addison, Texas, chartered in 1955, and their affiliates. Each company of National Life Group is solely responsible for its own financial condition and contractual obligations. Life Insurance Company of the Southwest is not an authorized insurer in New York and does not conduct insurance business in New York.
TC112689(0220)P