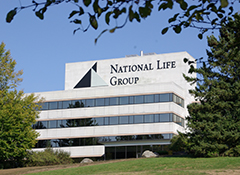 Montpelier, VT (June 3, 2022) - National Life Group ("NLG") will host its Annual Investor Call on Wednesday, June 8, 2022, beginning at 1:00pm Eastern time. The conference call is scheduled to last 60 minutes and will begin with an approximate 30-minute presentation on the financial standing of the organization. Following the presentation there will be a question and answer session led by Mehran Assadi, Chairman, CEO and President; and Robert Cotton, Chief Operating Officer. Call-in participants will be able to ask questions via phone.

Participant / Investor Dial-ins:
** Please dial in at least 5 minutes early to minimize your processing and ensure an on-time admittance into the call.
Participant US Local / Intl 1: +1 (929) 272-1574
Participant US Local / Intl 2: +1 (857) 999-3259
Participant US Toll Free: +1 (800) 528-1066
Conference ID: 8687

Representatives from National Life:
Mehran Assadi – Chairman, CEO and President
Robert Cotton – Chief Operating Officer
Eric Sandberg – Chief Financial Officer
Jason Doiron – Chief Investment Officer


The presentation will be accessible at https://dealroadshow.com/e/NLG2022 or by visiting http://www.dealroadshow.com and using the deal entry code: NLG2022 (not case sensitive).


National Life is here to bring you peace of mind. We've been keeping our promises since 1848. Believe in tomorrow, do good today. Learn more at NationalLife.com

Contact: Beth Rusnock, corporate communications, National Life Group, 802.229.7214.
National Life Group® is a trade name of National Life Insurance Company, founded in Montpelier, Vt., in 1848, Life Insurance Company of the Southwest, Addison, Texas, chartered in 1955, and their affiliates. Each company of National Life Group is solely responsible for its own financial condition and contractual obligations. Life Insurance Company of the Southwest is not an authorized insurer in New York and does not conduct insurance business in New York.
TC127148(0622)