National Life Releases 2020 Annual Report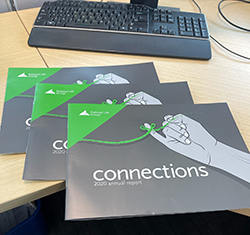 The company sets records despite pandemic
Montpelier, VT - (April 27, 2021) National Life released its 2020 Annual Report, which highlights the company's response to doing business during the global pandemic.
"When the pandemic struck, we focused on the health and well-being of our associates, ensured we met the needs of our policyholders and did our best to bring peace of mind to others, and provided emergency relief through our charitable foundation," said Mehran Assadi, Chairman, CEO and President. "We then went on to set records in our business. I couldn't be more proud of my teammates."
Among the accomplishments noted in the report:
Life sales were $354 million1
$3.1 billion was paid to policy owners in benefits2
The company remained first for Fixed Indexed Annuities in Employer Sponsored Plans3
Core earnings of $289 million set a record for the company4
Chairman, Chief Executive Officer and President Mehran Assadi was recognized by CEO Form as "Transformative CEO for Customer Experience"
$1.99 million was donated through the National Life Group Foundation
All of the details can be found in the electronic version of the report.
National Life is here to bring you peace of mind. We've been keeping our promises since 1848. Believe in tomorrow. Do good today. Learn more at NationalLife.com
Contact: Ross Sneyd, corporate communications, National Life Group, 802.249.7506.
National Life Group® is a trade name of National Life Insurance Company, founded in Montpelier, Vt., in 1848, Life Insurance Company of the Southwest, Addison, Texas, chartered in 1955, and their affiliates. Each company of National Life Group is solely responsible for its own financial condition and contractual obligations. Life Insurance Company of the Southwest is not an authorized insurer in New York and does not conduct insurance business in New York.
1 Life sales include total weighted new annualized premium for NLIC and LSW. Flow annuity and single premium deferred annuity sales include total deposits for NLIC and LSW. For the year ended December 1, 2020 NLIC life insurance WNAP were $52M, flow annuity total deposits were $7M, and SPDA total deposits were $2M.
2 Statutory basis benefits based on consolidated results of NLIC and LSW for 2020. NLIC statutory basis benefits were $401M.
3 LIMRA US Individual Annuity Industry Sales Report, 4Q2020.
4 Based on the consolidated results as of and for the year ended December 31, 2020 stated on the basis of U.S. Generally Accepting Accounting Principles (GAAP) of NLV Financial Corporation (NLVF) and its subsidiaries and affiliates, including National Life Insurance Company (NLIC) and Life Insurance Company of the Southwest (LSW). NLVF and its subsidiaries and affiliates operate as a unified organization under the trade name of National Life Group (NLG). Total assets exclude bond unrealized gains and losses. The measurement of core earnings only exists on a consolidated GAAP basis. Statutory basis financial figures as of December 31, 2020: NLG consolidated admitted assets were $38.9B, liabilities were $36.2B and total revenues were $4.6B. See disclosure 9 for separate financial information pertaining to NLIC.
TC120690(0421)1