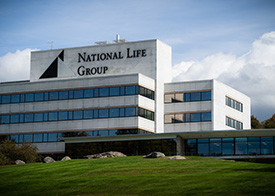 Montpelier, VT (July 8, 2022) - NLV Financial - the holding company for the member companies of National Life Group - leapt 48 positions up the 2022 list compiled by Fortune magazine of the 1,000 largest American companies based on reported revenue.
"National Life's growth is due in large part to the fact that we are mission-driven and purposeful," said Mehran Assadi, CEO and President of the National Life Group companies. "We will continue to grow as we work to bring peace of mind to more of America's underserved."
NLV Financial ranks 775 on the list, up from 823 on the 2021 Fortune 1000 and 14% higher than when National Life first appeared on the list in 2018.
About National Life Group
National Life is here to bring you peace of mind. We've been keeping our promises since 1848. Believe in tomorrow, do good today. Learn more at NationalLife.com
Contact: Beth Rusnock, corporate communications, brusnock@nationallife.com | 802.229.7214.
Based on the consolidated financial results as of December 31, 2021 of NLV Financial Corporation ("NLVF") and its subsidiaries and affiliates, including National Life Insurance Company and Life Insurance Company of the Southwest.
National Life Group® is a trade name of National Life Insurance Company, founded in Montpelier, VT, in 1848, Life Insurance Company of the Southwest, Addison, Texas, chartered in 1955, and their affiliates. Each company of National Life Group is solely responsible for its own financial condition and contractual obligations. Life Insurance Company of the Southwest is not an authorized insurer in New York and does not conduct insurance business in New York.
Fortune 1000 is a registered trademark of Fortune Media IP Limited and is used under license. Fortune and Fortune Media IP Limited are not affiliated with, and do not endorse products or services of, NLV Financial.
TC127364(0622)P