National Life Group names Marcos Gabriel to Board of Directors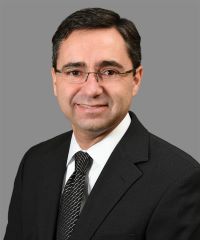 Montpelier, VT - (May 15, 2023) Chief Transformation Officer of McCormick & Company Marcos Gabriel was elected to serve on the National Life Group Board of Directors at its May annual meeting.
A global executive with 25-plus years of experience in major multinational companies across three continents, including McCormick, Avon, Unilever and Eli Lilly, Gabriel brings solid experience in all areas of finance, strategy development, enterprise-wide business transformation, M&A, risk management and private equity to National Life. At McCormick & Co., Gabriel leads a global team of employees driving enterprise-wide business transformation.
Gabriel holds an MBA in Finance from the Universidade de São Paulo and completed a company-led program with the Thunderbird School of Global Management. He was awarded two outstanding Global CEO Awards by both Unilever and Avon CEOs for his business contributions in his career. An American Brazilian, Gabriel is fluent in Spanish and Portuguese. .
Outside of business, Gabriel is passionate about tennis and has served as a professional tennis referee in the Association of Tennis Professionals (ATP) Tour, Grand Slams and Olympic Games in the early 1990s.
"Marcos brings tremendous experience in the areas of finance, strategy, transformation and retail business to National Life Group," Chairman, CEO and President Mehran Assadi said.
"I am delighted to join the National Life Group Board of Directors as it approaches its 175th anniversary," Gabriel says. "It is important to me to associate with a purpose-driven company focused on doing good in communities. National Life has a long history of providing stability and peace of mind to millions of American families, and I'm thrilled to partner with Mehran Assadi and his leadership team to continue that legacy."
About National Life Group
National Life is here to bring you peace of mind. We've been keeping our promises since 1848. Believe in tomorrow, do good today. Learn more at NationalLife.com
Contact: Daphne Larkin, corporate communications, National Life Group, 802.229.3607.
National Life Group® is a trade name of National Life Insurance Company, founded in Montpelier, Vt., in 1848, Life Insurance Company of the Southwest, Addison, Texas, chartered in 1955, and their affiliates. Each company of National Life Group is solely responsible for its own financial condition and contractual obligations. Life Insurance Company of the Southwest is not an authorized insurer in New York and does not conduct insurance business in New York.