National Life Group Releases 2022 Annual Report
As it approaches its 175th anniversary, the company broke sales records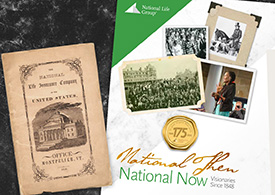 Montpelier, VT - (May 4, 2023) National Life Group released its 2022 Annual Report, which highlights new sales records set in its 175th year despite market volatility, as well as the return of Do Good Fest in Vermont after a two-year pandemic hiatus and the inaugural Do Good Fest held in Texas, raising $146,000 for local nonprofits.
"With an enduring vision of service and care to guide us, we continue to grow," Chairman, CEO and President Mehran Assadi said. "National Life remains strong and visionary. The 1848 inspiration and national perspective of our founders remains our North Star and call to action. As we prepare to celebrate our 175th anniversary this November, we know that the values that have guided us to take care of our clients, agents, associates and communities will serve us well in the decades to come."
Among the accomplishments noted in the report:
$189 million in Annuity Flow1
$1.1 billion in Single Premium Deferred Annuity Sales1
$465 million in Life Insurance Weighted Net Annualized Premium1
National Life served 1.2 million customers in 2022
National Life was the only insurance company included in Inc. Magazine's prestigious list of the "Best in
Business," reserved for companies who performed well while doing good
$708,000 raised through its employee donor matching program, Share the Good
Almost $2 million was donated through the National Life Group Foundation with a focus on programs that
address children's mental health and ending childhood hunger

All of the details of the year can be found in the electronic version of the report, also summarized in this year's Business Highlights. Go here for an expanded history timeline.



About National Life Group
National Life is here to bring you peace of mind. We've been keeping our promises since 1848. Believe in tomorrow, do good today. Learn more at NationalLife.com

Contact: Daphne Larkin, corporate communications, National Life Group, 802.229.3607.

National Life Group® is a trade name of National Life Insurance Company, founded in Montpelier, Vt., in 1848, Life Insurance Company of the Southwest, Addison, Texas, chartered in 1955, and their affiliates. Each company of National Life Group is solely responsible for its own financial condition and contractual obligations. Life Insurance Company of the Southwest is not an authorized insurer in New York and does not conduct insurance business in New York.

1Life sales include total weighted new annualized premium for NLIC and LSW. Flow annuity (new anticipated annual premium contributions) and single premium deferred annuity sales include total deposits for NLIC and LSW. For the year ended December 31, 2022 NLIC life insurance WNAP were $54M, flow annuity total deposits were $7M, and SPDA total deposits were $32M.