National Life Group Foundation donates $20k to Montpelier Food Pantry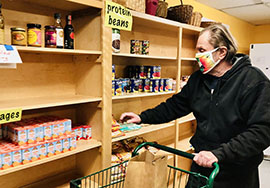 Montpelier, VT - (January 31, 2022) The National Life Group (NLG) Foundation closed out 2022 with a final grant of $20,000 to Just Basics, Inc., the parent organization of the Montpelier Food Pantry.
Just Basics, Inc. brings together and structures programs that work with members of the greater Montpelier area to address their basic needs and confront cycles of injustice, most notably running the Montpelier Food Pantry and summer lunch programs for children.
"With the soaring cost of food, we are serving double the number of Vermonters than at this same time last year," Just Basics Executive Director Jaime Bedard said. "This grant could not have come at a better time to help us make sure we can stay well stocked with healthy food."
"I'm thrilled about the donation and the good it will do for the community," community member Don Carpenter said. (Pictured above shopping to bring food back to his group home).
The Foundation offers grants to nonprofit organizations primarily in central and northern Vermont and the Dallas, Texas area where the company has offices with a focus on ending childhood hunger and supporting youth mental health.
"The National Life Group Foundation takes seriously our mission to do what we can to answer the call of food insecurity and the dire need our community is facing around that," National Life Group Foundation President Beth Rusnock said.
The Foundation is the giving arm of National Life, which also supports the community through numerous programs, which this year included: Do Good Fest in Vermont and in Texas; giving away 1,300 Thanksgiving dinners in central Vermont; hosting a holiday event for homeless families in Texas; "Share the Good," an employer gift match program for employees; and many other partnerships with community organizations throughout the year.
Applications for grants will be accepted from January 1, 2023 – March 31, 2023. Applications are accepted online here. To be considered for a grant, an organization must be a public charity which is exempt from income taxes under section 501(c)(3) of the Internal Revenue Code.
Learn more here about National Life Group's corporate philanthropy with programs that include a commitment to ending childhood hunger, supporting children's mental health, LifeChanger of the Year award and other social responsibilities.
Editor's note: Pictured above is Don Carpenter, who brings food back to his group home where it is much appreciated. Credit: Jaime Bedard/Just Basics.
About National Life Group
National Life is here to bring you peace of mind. We've been keeping our promises since 1848. Believe in tomorrow, do good today. Learn more at NationalLife.com
Contact: Daphne Larkin, Corporate Communications, National Life Group, 802.229.3607
National Life Group® is a trade name of National Life Insurance Company, founded in Montpelier, VT, in 1848, Life Insurance Company of the Southwest, Addison, Texas, chartered in 1955, and their affiliates. Each company of National Life Group is solely responsible for its own financial condition and contractual obligations. Life Insurance Company of the Southwest is not an authorized insurer in New York and does not conduct insurance business in New York.