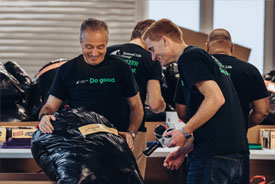 Montpelier, VT (May 31, 2022) - The National Life Group Foundation granted more than $1.3 million this spring to nonprofit organizations with an emphasis on Vermont and Texas based-programs that address childhood hunger and children's mental health.
◾ Fifty-one percent of these donations support hunger relief efforts, including donations to the Vermont Foodbank ($100,000), the North Texas Food Bank ($100,000), and Hunger Free Vermont ($100,000).
◾ Twenty-nine percent was allocated to programs that support children's mental health including $35,000 to the Family Place and $15,000 to Alliance for Children, both based in North Texas.
◾ The balance went to programs directed to kids and families as well as community development.
In addition to the 123 grants approved through the general grant process, the National Life Group Foundation also donated two grants of $10,000 each to the Community Foundation of the Texas Hill Country and the League of United Latin Americans to help the Robb Elementary School shooting victims and their families. And in February, the Foundation partnered with BUILD (Blacks Uplifted in Leadership Development) by donating to four Black-led nonprofits around the country.
"We're honored to be able to do good," said Beth Rusnock, Foundation president. "It's inspiring to see the impact nonprofits are making to better our communities every day, especially in the face of adversity."
National Life employees also continue to donate their time through volunteer efforts, nonperishable food and hygiene products for the company-sponsored Do Good Cupboard in Montpelier, and prom dresses and formal wear for the Keller ISD Special Olympics prom in Texas.
Contact: Beth Rusnock, corporate communications, National Life Group, 802.229.7214.
National Life Group® is a trade name of National Life Insurance Company, Montpelier, Vermont., Life Insurance Company of the Southwest, Addison, Texas, and their affiliates. Each company of National Life Group is solely responsible for its own financial condition and contractual obligations. Life Insurance Company of the Southwest is not an authorized insurer in New York and does not conduct insurance business in New York. Equity Services, Inc., Member FINRA/SIPC, is a Broker/Dealer and Registered Investment Adviser affiliate of National Life Insurance Company. All other entities are independent of Equity Services, Inc.
TC11268(0622)