National Life Group Inaugural Free Summer Concert in Texas Do Good Fest Raises $70,220 to Support Youth Mental Health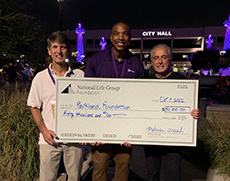 Arlington, TX - (October 18, 2022) National Life Group's inaugural free summer concert in Texas, "Do Good Fest" held at Levitt Pavilion Arlington on Oct. 7 raised $70,220 to benefit the Pediatric Behavioral Health Program at Parkland Health (Parkland) in support of youth mental health.

The event included live music headlined by Gangstgrass, with opener Youngtones: food trucks; and 12 nonprofit organizations in the Nonprofit Village.

In between bands, National Life Group Chairman, CEO and President Mehran Assadi presented Dr. Michael Horne, CEO of the Parkland Health Foundation, and Dr. Fred Cerise, CEO of Parkland Health with a check for $50,000 (pictured l-r Cerise, Horne, Assadi). Horne said Parkland is dedicated to screening 50,000 children and that one in every three children struggles with behavioral health issues now. "The crisis is palpable; it's here," he said. Additional funds were raised from tickets sold to the event VIP lounge.

Assadi also introduced National Life's 2021-22 LifeChanger of the Year grand prize winner Barbara Yarbrough. At 86 years old, Yarbrough captivated the audience with her stories and advice to "communicate honestly" saying "let us raise up and be honest" with children.

This was the inaugural Do Good Fest in Texas. Since 2014, National Life has hosted this benefit concert on the lawn of its Vermont campus, welcoming up to 10,000 concertgoers and raising more than $345,000 for local cancer patients.

Unique to the Texas event, MilkSpace brought a mobile breastfeeding pod to Do Good Fest . MilkSpace is a local small business started by Navy veteran Kelli Mumphrey. She often found it challenging to breastfeed in public due to a lack of safe and sanitary spaces for nursing mothers, so she created MilkSpace to address this issue. MilkSpace and Do Good Fest were recently featured on local Dallas ABC affiliate WFAA Channel 8.

Do Good Fest offered a VIP experience, which included an exclusive air-conditioned space with an open bar, elevated pub food, a terrace that overlooks the green and the stage, comfortable seating, rest rooms and a swag bag filled with branded gifts. All proceeds go to the Pediatric Behavioral Health Program at Parkland.

Nonprofit organizations featured at Do Good Fest included: Adaptive Training Foundation; Alliance for Children; American Cancer Society; Brighter Tomorrows; Equest; Hope Supply Co.; Hunger Busters; Mental Health America of Greater Dallas; Orchid Giving Circle; PediPlace; Veteran Women's Enterprise Center; and Youth Believing in Change.

Learn more here about National Life Group's corporate philanthropy with programs that include LifeChanger of the Year, a commitment to ending childhood hunger, social responsibility and supporting children's' mental health, among others.

About National Life Group

National Life is here to bring you peace of mind. We've been keeping our promises since 1848. Believe in tomorrow, do good today. Learn more at NationalLife.com

Contact: Daphne Larkin, Corporate Communications, National Life Group, 802.229.3607


National Life Group® is a trade name of National Life Insurance Company, founded in Montpelier, VT, in 1848, Life Insurance Company of the Southwest, Addison, Texas, chartered in 1955, and their affiliates. Each company of National Life Group is solely responsible for its own financial condition and contractual obligations. Life Insurance Company of the Southwest is not an authorized insurer in New York and does not conduct insurance business in New York.