National Life Donates $19,500 Toward Agent Causes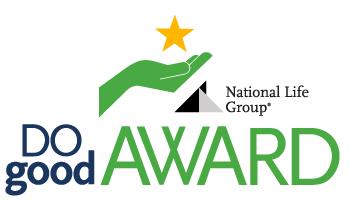 Montpelier, VT - (August 17, 2022) National Life Group awarded $19,500 recently to support causes championed by the company's agents around the country. The contributions were part of National Life's annual Agent Do Good Awards, which recognize the charitable work of the agencies it works with nationally.
"Our corporate values are simple and powerful: Do good. Be good. Make good," said Mehran Assadi, Chairman, CEO and President of National Life Group. "We are committed to bringing those words to life in everything we do, from the products we sell to the good works we support. We're proud to stand with our agents to support their own causes."
This year's Agent Do Good Awards were announced at separate conferences for National Life's independent agencies and for its affiliated agencies.
Among affiliated agencies, Conor Boyd of Thoroughbred Advisors in Latham, N.Y., was awarded grand prize for his work with Berkshire Farm Center and Services for Youth. A $7,500 donation from the National Life Group Foundation was made to Berkshire in his name.
Robert Boswell of Evolution Financial Group in Media, Pa., was runner-up for his work with Tennis for Teal, which promotes ovarian cancer awareness and raises money for research at the Penn Ovarian Cancer Research Center. A donation of $1,000 was made in Boswell's name through the National Life Group Foundation.
Tony Sardis of Insurance & Investment Advisory Group was also a runner-up for his commitment to SNUGS (Special Needs Undergraduate Swim Lessons). His nonprofit brings free, one-on-one, personalized water safety and technique clinics to financially-burdened families who have disabled children. The National Life Group Foundation donated $1000 in his name.
Among independent agencies, the grand prize went to Bill Le, founder of Independent Agency Alliance in Houston for raising money to help to combat poverty in his native Vietnam. He raised more than $150,000 on a mission trip in 2019 and returned again this year. National Life contributed $7,500 in his honor.
Mike Wilk, a founder of Five Rings Financial in Littleton, Colo., was the runner-up, honored for the Lee Nordine Academic Scholarship Program named for a colleague who was a former teacher. A $2,500 contribution was made in his name.
About National Life Group
National Life is here to bring you peace of mind. We've been keeping our promises since 1848. Believe in tomorrow, do good today. Learn more at NationalLife.com
Contact:
Beth Rusnock, Corporate Communications, National Life Group, 802.229.7214
National Life Group® is a trade name of National Life Insurance Company, founded in Montpelier, VT, in 1848, Life Insurance Company of the Southwest, Addison, Texas, chartered in 1955, and their affiliates. Each company of National Life Group is solely responsible for its own financial condition and contractual obligations. Life Insurance Company of the Southwest is not an authorized insurer in New York and does not conduct insurance business in New York.