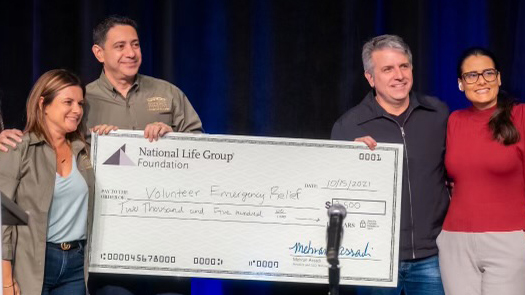 Montpelier, VT (October 15, 2021) - Volunteer Emergency Relief, a nonprofit whose mission is to do good in times of major need by enabling service and volunteer organizations to act during disasters was awarded a $2500 donation in honor of National Life Group agents Frederico Martins and Gustavo Couto, co-founders of VER.
From among 90 nominees, Martins and Couto were chosen as winners of the company's annual Agent Do Good Awards which are made to National Life agents whose commitment to helping nonprofits in their communities stand out.
VER has stepped in to help during natural disasters including raising $200,000 in food donations and delivering 2000 emergency relief boxes after hurricane Irma struck. Recently, they fed people during the pandemic including providing a Thanksgiving meal for the homeless and renovating houses to prevent homelessness.
"Our company lives its values to Do good. Be good. Make good every day," said National Life Chairman, CEO, and President Mehran Assadi. "We're proud to recognize our agents when they share our commitment to doing good in the communities in which we operate. We're humbled by Frederico and Gustavo's dedication to those in their community when the unexpected happens."
Martins and Couto were recently given the award at an event in Denver, CO.
About National Life Group
National Life is here to bring you peace of mind. We've been keeping our promises since 1848. Believe in tomorrow. Do good today. Learn more at NationalLife.com
Contact: Darryl Garland, Corporate Communications, National Life Group, dgarland@nationallife.com, 802.229.3334.
National Life Group® is a trade name of National Life Insurance Company (NLIC), founded in Montpelier, VT, in 1848, Life Insurance Company of the Southwest, Addison, Texas, chartered in 1955, and their affiliates. Each company of National Life Group is solely responsible for its own financial condition and contractual obligations. Life Insurance Company of the Southwest is not an authorized insurer in New York and does not conduct insurance business in New York.
TC114805(0821)1