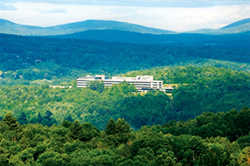 Montpelier, VT (October 18, 2021) - NLV Financial Corporation ("NLV Financial"), the intermediate holding company for National Life Group and parent company of National Life Insurance Company ("NLIC"), today announced the creation of a new Delaware trust, Maple Grove Funding Trust I (the "Trust"), which has issued $750 million of Pre-Capitalized Trust Securities ("P-Caps") which are rated "BBB+" by S&P Global Ratings and "Baa1" by Moody's Investors Service, Inc. ("Moody's").
"This contingent capital structure provides National Life Group with financial flexibility in all market environments," states Eric Sandberg, CFO and CRO of National Life Group, who adds that "this issuance enhances our already strong capital position and allows us to access funds as needed to support our growth."
"The purpose of this offering is simple," said Mehran Assadi, Chairman, President and CEO of National Life Group. "It will help us to continue to bring peace of mind to Middle America, the most underserved segment of the market."
Credit Suisse acted as the sole Structuring Advisor and Bookrunner for the offering. The proceeds from the issuance will be invested by the Trust in a portfolio of principal and interest strips of U.S. Treasuries ("Eligible Assets"). The Trust has entered into a facility agreement with NLV Financial that gives NLV Financial the right to deliver its 4.161% Senior Notes maturing on August 15, 2051 ("Senior Notes") to the Trust in exchange for Eligible Assets. If NLV Financial exchanges Senior Notes for Eligible Assets, the senior debt would rank pari-passu in right of payment to NLV Financial's existing and future senior indebtedness.
NLIC was recognized earlier this year with financial strength ratings upgrades to A1 (Good) by Moody's and A+ (Superior) by A.M Best Rating Services, Inc.*
About National Life Group
National Life is here to bring you peace of mind. We've been keeping our promises since 1848. Believe in tomorrow. Do good today. Learn more at NationalLife.com
Contact: Darryl Garland, Corporate Communications, National Life Group, dgarland@nationallife.com, 802.229.3334.
National Life Group® is a trade name of National Life Insurance Company (NLIC), founded in Montpelier, VT, in 1848, Life Insurance Company of the Southwest, Addison, Texas, chartered in 1955, and their affiliates. Each company of National Life Group is solely responsible for its own financial condition and contractual obligations. Life Insurance Company of the Southwest is not an authorized insurer in New York and does not conduct insurance business in New York.
* Financial strength ratings for National Life Insurance Company and Life Insurance Company of the Southwest as of 10/14/2021 are:
| | | |
| --- | --- | --- |
| A.M. Best | | A+ (Superior) 2nd out of 16 ratings |
| Standard & Poor's | | A+ (Strong) 5th out of 21 ratings |
| Moody's | | A1 (Good) 5th out of 21 ratings |
Ratings are subject to change.
TC123632(1021)1