National Life Group Foundation matches gifts to Communities In Schools of the Dallas Region, BUILD fundraiser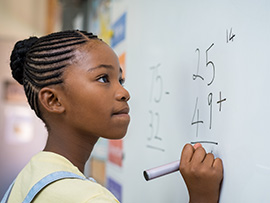 Addison, TX - (February 17, 2023) The National Life Group (NLG) Foundation will honor Black History Month by matching donations through GIVING BACK with BUILD, Black History Month Fundraiser in support of Communities In Schools of the Dallas Region (CIS).
A National Life Group community, BUILD was chartered to commit to the increase of Black agents and leaders in the insurance industry. According to Marsh, only 4% of independent agencies have an African American principal or senior manager. This lack of representation can interfere with the ability to effectively reach and create connections with a diverse and growing prospective audience.
BUILD is working to raise $20,000 for CIS-Dallas, a nonprofit that supports more than 10,000 students annually with case management and mental health services, as well as 50,000 students in schoolwide supports, afterschool and summer programming. Donations support serving a student's direct needs, so they may succeed in school and achieve in life. All donations will be matched by the National Life Group Foundation up to $20,000 during the month of February.
According to U.S. News, the Dallas Independent School District is 90% minority enrollment and 66.1% of the more than 114,000 students are economically disadvantaged.
"The vast majority of our young people are students of color, which makes it incredibly important to have representation that mirrors their broader communities", said Adam Powell, President and CEO of Communities In Schools of the Dallas Region. "By supporting black led organizations, we create opportunities for students to see themselves accurately reflected in this critical work.
"It is an honor to partner with the BUILD Community to ensure that every student has access to the appropriate resources allowing them to succeed in school and achieve in life."
Donations can be made through February 28 here.
"The good work of Communities In Schools of the Dallas Region is aligned with National Life's focus on supporting the needs of children," National Life Group Foundation President Beth Rusnock said. "To work with BUILD to lift at-risk kids is a privilege."
The Foundation offers grants to nonprofit organizations primarily in central and northern Vermont and the Dallas, Texas area where the company has offices with a focus on ending childhood hunger and promoting youth mental health. Applications for grants will be accepted until March 31, 2023. Applications are accepted online here.
To be considered for a grant, an organization must be a public charity which is exempt from income taxes under section 501(c)(3) of the Internal Revenue Code.
Learn more about the Foundation here: Our Foundation | National Life Group Foundation.
Learn more here about National Life Group's corporate philanthropy with programs that include LifeChanger of the Year, a commitment to ending childhood hunger, social responsibility and supporting children's mental health, among others.
About National Life Group
National Life is here to bring you peace of mind. We've been keeping our promises since 1848. Believe in tomorrow, do good today. Learn more at NationalLife.com
Contact: Daphne Larkin, Corporate Communications, National Life Group, 802.229.3607
National Life Group® is a trade name of National Life Insurance Company, founded in Montpelier, VT, in 1848, Life Insurance Company of the Southwest, Addison, Texas, chartered in 1955, and their affiliates. Each company of National Life Group is solely responsible for its own financial condition and contractual obligations. Life Insurance Company of the Southwest is not an authorized insurer in New York and does not conduct insurance business in New York.