National Life Group appoints new General Agent to Southern Florida agency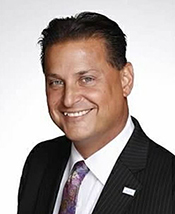 Montpelier, VT - (December 14, 2022) National Life Group has appointed life insurance veteran Robert J. Liebman as its General Agent for Southern Florida, beginning August 2022.
Liebman comes to National Life as a seasoned leader with over three decades in the financial services industry. With a track record of success in building and developing agents and agencies, his focus is on growing the South Florida market.
"We are excited to have a seasoned leader in Rob, who brings a wealth of knowledge and commitment to the industry and his clients," said Rebecca Dunne, Senior Vice President for National Life's affiliated distribution network. "National Life remains committed to bringing the best industry leaders to our communities and we are confident that Rob will continue his track record of success in the South Florida marketplace."
Liebman began his financial services career at 21, quickly rising through the ranks to train and coach new representatives, growing agencies and earning industry awards along the way.
Liebman joins National Life Group from AmeriLife, where he was an award-winning Regional Market Leader of seven locations in Florida from St. Petersburg to Miami.
"I'm excited for the opportunity to build a top tier agency and leave a lasting legacy at National Life in Florida," he said.
Liebman and his wife, Lisa, have two daughters and live in Wellington, Florida.
Liebman currently holds a Series 6, 63, 65, 7, 24, and 53. He also holds a Florida 215 Life, Health, and Variable Annuity License.
About National Life Group
National Life is here to bring you peace of mind. We've been keeping our promises since 1848. Believe in tomorrow, do good today. Learn more at NationalLife.com
Contact: Daphne Larkin, corporate communications, National Life Group, 802.229.3607.
National Life Group® is a trade name of National Life Insurance Company, founded in Montpelier, Vt., in 1848, Life Insurance Company of the Southwest, Addison, Texas, chartered in 1955, and their affiliates. Each company of National Life Group is solely responsible for its own financial condition and contractual obligations. Life Insurance Company of the Southwest is not an authorized insurer in New York and does not conduct insurance business in New York.