NLG Executive Leadership Team to Volunteer at the Montpelier Senior Activity Center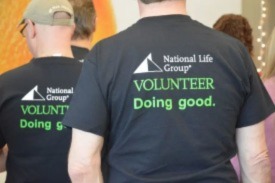 Montpelier, VT - (May 8, 2023) National Life Group's executive leadership team will volunteer at the Montpelier Senior Activity Center's (MSAC) FEAST Kitchen, which provides nutritious meals in person and delivered via Meals on Wheels to seniors and families in the Montpelier community on May 9.
Aligned with National Life's corporate cause to help end hunger and to help kick off its first week of service since before the pandemic, a group of eight leaders along with other National Life volunteers will assist in preparing and handing off meals for delivery.
"As food insecurity in the state has become more acute due to inflation, we are pleased to support our community while also demonstrating our 'do good' values," Chairman, CEO and President Mehran Assadi said.
National Life has a deep collaboration with the MSAC.
National Life's Do Good Cupboard is located there. In 2020, National Life partnered with the City of Montpelier to install the cupboard in front of the MSAC on Barre Street. The Cupboard offers basic items to those in the community, augmenting food shelves with nonperishable food and toiletries.
The National Life Group Foundation helped fund the capital campaign for the MSAC, which provides services including tax preparation, classes, and affordable housing as well as the FEAST Kitchen and FEAST Farm. Last year, National Life also funded a "Do Good Van" which transports seniors, children and food in the capital city.
"It is only because of the support from local organizations like National Life that we are able to deliver on our mission of ensuring that the older adults in our community have access to the services that allow them to thrive," MSAC Director Sarah Lipton said. "Not only has National Life been a fiscal agent supporting us, but some of their staff have been our most dedicated Meals on Wheels drivers – serving for over 30 years."
National Life's motto is "Do good, Be good and Make good." Learn more here about National Life Group's corporate philanthropy with programs that include a commitment to ending childhood hunger, children's mental health, LifeChanger of the Year and other social responsibilities.
About National Life Group
National Life is here to bring you peace of mind. We've been keeping our promises since 1848. Believe in tomorrow, do good today. Learn more at NationalLife.com
Contact: Daphne Larkin, corporate communications, National Life Group, 802.229.3607.
National Life Group® is a trade name of National Life Insurance Company, founded in Montpelier, Vt., in 1848, Life Insurance Company of the Southwest, Addison, Texas, chartered in 1955, and their affiliates. Each company of National Life Group is solely responsible for its own financial condition and contractual obligations. Life Insurance Company of the Southwest is not an authorized insurer in New York and does not conduct insurance business in New York.