Do Good Fest Benefit Concert Comes to Levitt Arlington October 7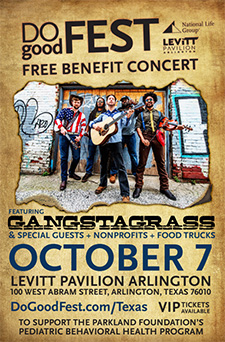 Arlington, TX - (August 2, 2022) A benefit concert that has raised more than $300,000 in Vermont is coming to DFW this fall. The National Life Group Do Good Fest at Levitt Pavilion Arlington will support Parkland Health's Pediatric Behavioral Health Program (PBH).
"National Life has always been purpose-driven," said Beth Rusnock, President of the National Life Group Foundation, "Helping protect children and families is what we do. That's why supporting children's mental health is a focus of ours. We're excited to introduce Texas to Do Good Fest so we can come together to celebrate and support kids."
"The Levitt is a place where both good music and good things for the community happen, so it's the perfect location for the Texas leg of the Do Good Fest," added Letatia Teykl, executive director of the Levitt Pavilion. "We know everyone is going to have a blast listening to Gangstagrass, and we encourage our guests to be as generous as possible in support of the wonderful work being carried out by the Parkland Foundation."
Screening for behavioral health issues should be as common as vision and hearing screenings. Unfortunately, there aren't enough services to address the need in Dallas County – especially for those who are uninsured. Parkland's PBH Program helps address children's mental health by giving local doctors the tools to identify and treat behavioral health issues early. This innovative program is uniquely designed to serve those most in need: kids from low-income backgrounds or who are uninsured/underinsured, often preventing them from receiving behavioral services through other means.
"Every child deserves the chance to live a healthy, active and fulfilling life, which is why it's critically important to identify and address children's mental health needs," said Michael A. Horne, EdD, MPP, President and CEO, Parkland Foundation. "Thanks to sponsors and generous donors like National Life, programs like Pediatric Behavioral Health can help those most in need."
The event will feature food trucks, a Nonprofit Village, a VIP Lounge, and live music featuring Gangstagrass, an infectious fusion of socially conscious hip hop and bluegrass musical virtuosity, along with an opening act to be announced.
Do Good Fest is free to attend, and donations for the Pediatric Behavioral Health Program at Parkland are encouraged at the event. The concert will be October 7, 2022 starting at 7:00 pm, at Levitt Pavilion Arlington, 100 W. Abram Street.
Information about the event at Levitt is at DoGoodFest.com/Texas.
National Life is here to bring you peace of mind. We've been keeping our promises since 1848. Believe in tomorrow, do good today. Learn more at NationalLife.com
Levitt Pavilion Arlington presents more than 50 free outdoor concerts a year with a broad-based concert calendar of professional musical artists, from world music to jazz and home-grown Texas country to hot Indie artists. The Levitt presents emerging talent and original artists from a range of music genres, many of them Grammy Award winners, as well as local musicians as part of the Levitt's "Share the Stage" initiative promoting North Texas talent. Ticketed concerts and other special events are also produced by the Levitt Pavilion Arlington. Noted as a signature destination and performing arts centerpiece for Downtown Arlington, The Levitt plays a significant role in Downtown Arlington's designation as a Cultural District by the State of Texas and the recent designation as a Music Friendly Community by the Texas Music Office. For more information, visit levittpavilionarlington.org or find us on Facebook, Twitter, YouTube, Instagram. The 2022 Levitt season is sponsored by Baylor Scott & White Orthopedic and Spine Hospital - Arlington.
About Parkland Foundation
Parkland Foundation is dedicated to securing substantial financial resources that advance the goals of Parkland Health. Through this support, Parkland is able to extend its services to reach more people in need and enhance the quality of care available to them. Learn more at www.IStandforParkland.org.
Media Contact:
Beth Rusnock, Corporate Communications, National Life Group, 802.229.7214
BrandEra, Inc. (for Levitt Pavilion), at ra@branderamarketing.com or 972.824.1455.
Jeamy Molina, Director of Communications, Parkland Foundation, at jeamy.molina@phhs.org or 214.266.2061.
National Life Group® is a trade name of National Life Insurance Company, founded in Montpelier, VT, in 1848, Life Insurance Company of the Southwest, Addison, Texas, chartered in 1955, and their affiliates. Each company of National Life Group is solely responsible for its own financial condition and contractual obligations. Life Insurance Company of the Southwest is not an authorized insurer in New York and does not conduct insurance business in New York.