Achim Schwetlick Promoted to Executive Vice President, Chief Marketing Officer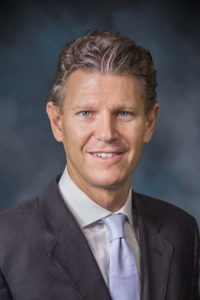 Montpelier, VT - (February 26, 2021) Achim Schwetlick, the head of National Life's product and marketing division, has been promoted to Executive Vice President and Chief Marketing Officer. Chairman, CEO and President Mehran Assadi announced the appointment.
Schwetlick joined National Life in 2016 as Senior Vice President to lead the company's newly formed Business Innovation Group. He oversaw the integration of product delivery and development, strategy, advanced markets, marketing, communications, and digital services.
"His strategic and innovative thinking combined with strong business acumen and industry practitioner experience make him a driving force at National Life," Assadi said.
Schwetlick is also a member of National Life's Executive Management Team.
Schwetlick, who lives in Shelburne, Vt., with his wife Julie and three children, came to National Life from Boston Consulting Group, where he was a partner and the managing director.
National Life is here to bring you peace of mind. We've been keeping our promises since 1848. Believe in tomorrow, do good today. Learn more at NationalLife.com
Contact: Ross Sneyd, corporate communications, National Life Group, 802.249.7506.
National Life Group® is a trade name of National Life Insurance Company, founded in Montpelier, Vt., in 1848, Life Insurance Company of the Southwest, Addison, Texas, chartered in 1955, and their affiliates. Each company of National Life Group is solely responsible for its own financial condition and contractual obligations. Life Insurance Company of the Southwest is not an authorized insurer in New York and does not conduct insurance business in New York.
TC12689(0220)P