AM Best Upgrades Financial Rating Of National Life Companies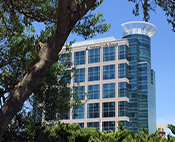 Montpelier, VT - (May 19, 2021) Ratings agency AM Best Co. has upgraded to A+ (Superior) the financial strength rating for the insurance companies of National Life Group.
CEO Mehran Assadi called the action "a very strong endorsement of National Life's financial strength."
"Our mission is to deliver on our promises," he said. "This rating upgrade by a globally respected independent agency is evidence that we will indeed deliver on our promises."
"For a company like ours – where our promise is our product – it's important that consumers know they can trust us to deliver."
In its release detailing its decision, AM Best said:
"The ratings reflect National Life Group's balance sheet strength, which AM Best assesses as very strong, as well as its strong operating performance, favorable business profile and appropriate enterprise risk management (ERM)."
"The group has a long history of successful execution in targeting life insurance and annuity product solutions to the middle market segment, which it markets through a combination of career agents and a growing independent agency force."
Assadi noted that the upgrade to a rating of A+ (Superior) comes despite the fact that AM Best maintains a negative outlook on the U.S. life/annuity segment. The rating agency issues market segment outlooks of positive, negative or stable reflecting trends and expectations in a market segment for the next 12 months.
"We are a 172-year-old company with a storied history, a solid financial foundation, and a clear strategy for serving and growing our client base, now with more than 1 million active clients," Assadi said.
National Life is here to bring you peace of mind. We've been keeping our promises since 1848. Believe in tomorrow. Do good today. Learn more at NationalLife.com
Contact: Ross Sneyd, corporate communications, National Life Group, 802.229.3866.
National Life Group® is a trade name of National Life Insurance Company, founded in Montpelier, Vt., in 1848, Life Insurance Company of the Southwest, Addison, Texas, chartered in 1955, and their affiliates. Each company of National Life Group is solely responsible for its own financial condition and contractual obligations. Life Insurance Company of the Southwest is not an authorized insurer in New York and does not conduct insurance business in New York.
TC121099(0521)1