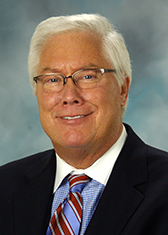 Montpelier, VT (October 30, 2015) -  William "Bill" Hansing has been appointed General Agent of National Life Group's Western Illinois Agency in St. Charles.
In his new post, Hansing will lead market development and agent recruiting in Western Illinois for National Life Group, working in tandem with the company's Chicago Agency, led by John Vitt.
"Hansing's story is one of the financial services industry's most varied and interesting," said Pam Blalock, National Life Group Senior Vice President. "In a career that extends back to the mid-70s, Bill has pursued an often winding course across the financial services landscape. All the while, he has remained true to his own vision. Bill has been a speaker, mentor and coach to entrepreneurial individuals and groups within the financial services industry for 40 years."
Since 2002, Hansing has owned his own financial services firm, Financial Partners, with 60 affiliated associates. He began his career as a personal producer and moved into management roles in the 1980s in Bloomington, Ill.
Hansing holds FINRA Series licenses and is an active member of his community, volunteering with Big Brother-Big Sister, Hesed House, Muscular Dystrophy Associations, Bible Study Fellowship, Lutheran Social Services and the Scoiety for American Baseball Research. He lives in Tinley Park, Ill., with his wife, Debbie, who is the office manager of the office in St. Charles. He has three sons and seven grandchildren.
The companies of National Life Group offer a broad range of financial products, including life insurance, annuities, and investments, and financial solutions in the form of estate, business succession and retirement planning strategies. They are a leading provider of 403(b) and 457(b) tax-deferred retirement plans, primarily in the K-12 school marketplace.
Contact: Ross Sneyd, corporate communications, National Life Group, 802.229.3866.
William Hansing is a registered representative of, and securities are offered solely by Equity Services Inc. National Life Group® is a trade name of National Life Insurance Company, Montpelier, Vt., Life Insurance Company of the Southwest, Addison, Texas, and their affiliates. Each company of National Life Group is solely responsible for its own financial condition and contractual obligations. Life Insurance Company of the Southwest is not an authorized insurer in New York and does not conduct insurance business in New York. Equity Services, Inc., Member FINRA/SIPC, is a Broker/Dealer and Registered Investment Adviser. National Life Insurance Company, Life Insurance Company of the Southwest, and Equity Services, Inc., are affiliated members of National Life Group. Financial Partners and all other entities are independent of Equity Services, Inc., and its affiliates.
TC87418(1015)1