Victor Muro Inducted Into National Life Hall of Fame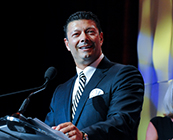 Induction Ceremony Held in April at Annual Meeting in Naples, Florida
Montpelier, VT - (April 30, 2017) General Agent Victor Muro was inducted into the National Life Agent Hall of Fame.
Muro, who is one of the General Agents of National Life Group's agency that covers New York City, New Jersey, California and Florida, was presented with a special jacket symbolizing his inclusion in the exclusive group at the company's annual President's Club meeting in Naples, Florida.
"Victor is just the 15th inductee into our Hall of Fame in the 168-year history of National Life," said Pam Blalock, National Life's Senior Vice President, Career Distribution. "We're excited to honor him and formally recognize him for his contributions to our industry and our company."
The National Life Hall of Fame recognizes both General Agents and Agents who have demonstrated exemplary leadership in our industry, at our company and in their communities.
Inductees to the Hall of Fame are determined by National Life's senior management and extensive nomination criteria that include excellence in recruiting, production, leadership, marketing, and community engagement. Muro has received numerous President's and Chairman's awards for leading National Life's top career agency. In addition, for many years he has been the recipient of the Best in Class award from GAMA, which promotes leadership in insurance and financial services.
Muro joined National Life in August 2009. He has more than 25 years of experience in the industry. He holds a number professional designations and earned bachelor's and master's degrees in business and finance from St. John's University.
Muro and his wife, Annemarie, live in Staten Island with their children, Vic Jr., Christopher and Nicolette.
In addition to his professional work, Muro is active as a volunteer. He works with community organized sports and his church. He is a mentor for college students, primarily at St. John's University and at St. Peter's College and is passionate about the Dynamic Youth Center for substance abuse. He also supports organizations dedicated to autism, in addition to work with high school students in Brooklyn and Staten Island.
At National Life, our story is simple: For more than 168 years we've worked hard to deliver on our promises to millions of people with our vision of providing peace of mind in times of need. It's our cause, stemming from a deep passion to live our values to do good, be good and make good, every day. Learn more at NationalLife.com.
Contact: Ross Sneyd, corporate communications, National Life Group, 802.229.3866.
Victor Muro is a Registered Representative and Investment Adviser Representative of, and securities and investment advisory services are offered solely by Equity Services, Inc. (ESI), Member FINRA/SIPC, 675 Third Avenue, Suite 900, New York, NY 10017. (646) 898-3535. ESI is a Broker/Dealer and Registered Investment Adviser affiliate of National Life Insurance Company.
National Life Group® is a trade name of National Life Insurance Company, founded in Montpelier, Vt., in 1848, Life Insurance Company of the Southwest, Addison, Texas, chartered in 1955, and their affiliates. Each company of National Life Group is solely responsible for its own financial condition and contractual obligations. Life Insurance Company of the Southwest is not an authorized insurer in New York and does not conduct insurance business in New York.
TC95190(0417)1