Texas Girl Gets Bedroom Makeover by Volunteers From National Life Group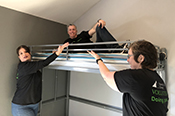 Addison, TX - (March 5, 2018) Five years ago when Alliance For Children's Director of Clinical Services, Diana Davis, began to brainstorm ideas for a new art therapy project, she immediately thought of how another child advocacy center had depicted the symbolism of trees and their seasonal cycles of life and restoration. If art designed from the children's hands were the leaves and the organization's founders, staff and board members' hands were the roots and trunk, she wondered, the project could uniquely convey the healing process that the 25-year-old Tarrant County agency provides its abused clients.
The Makeover Program is designed to create a haven in which abused children can heal within their own home. "It's hard to heal when you have to return to the place you were abused," said April Eastman with the Texas-based Alliance for Children, who started the program three years ago.
The first makeover by National Life's volunteers transformed the room of an 8-year-old girl.
"To help bring a child hope, to see a sparkle in their eye, and know we helped bring that back is something none of us will ever forget," said Maria McLendon, one of the National Life volunteers involved in the makeover.
"National Life Group's interest in this project derives from our employees' deep passion to live our company values to do good, be good and make good, every day," said Maria McLendon, Head of Retirement Marketing. "We are thrilled to be a part of this project."
The volunteers went through a training and a background check and then got to work planning the design, building furniture, sewing slipcovers and transforming the superhero-themed room into a bright space, using the purple, green and sequins that are the 8-year-old's favorites.
Weeks of work culminated with the big reveal. While the child was at school the volunteers removed everything from the room and the transformation began.
They put a new bed, bookcase, drawers, desk, curtains, a mirror and even a guitar-shaped jewelry holder into place.
The young girl was welcomed home to the cheers of the National Life volunteers to see her new room.
"I wish you could have seen all of the joy in that house," McLendon told her colleagues.
Another team of National Life volunteers is now working on a makeover of two bedrooms of siblings.
"This is a perfect match for National Life," said Beth Rusnock, president of the National Life Group Foundation. "We have financially supported Alliance's programs for years. The Makeover Program allows our employees a chance to use their volunteer time to do even more good."
Every employee of National Life gets 40 hours of company-paid time annually to volunteer in the community.
At National Life, our story is simple: For more than 168 years we've worked hard to deliver on our promises to millions of people with our vision of providing peace of mind in times of need. It's our cause, stemming from a deep passion to live our values to do good, be good and make good, every day. Learn more at NationalLife.com.
Contact: Ross Sneyd, corporate communications, National Life Group, 802.229.3866.
National Life Group® is a trade name of National Life Insurance Company, founded in Montpelier, Vt., in 1848, Life Insurance Company of the Southwest, Addison, Texas, chartered in 1955, and their affiliates. Each company of National Life Group is solely responsible for its own financial condition and contractual obligations. Life Insurance Company of the Southwest is not an authorized insurer in New York and does not conduct insurance business in New York.
TC95211(0417)3