Texas Athletic Director Named National 'LifeChanger Of The Year' Grand Prize Winner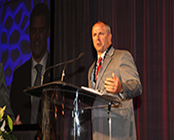 Mike McEarchern from Hargrave High School in Huffman, TX earns grand prize for a national K-12 recognition and rewards program
Montpelier, VT (April 21, 2015) - National Life Group announces today that Mike McEachern, Athletic Director and Head football coach at Hargrave High School in Huffman, TX, has been selected as the Grand Prize Winner for its national 2014-2015 LifeChanger of the Year award.
McEachern was chosen for this award out of more than 600 nominations for teachers, administrators and school employees from all 50 states and the District of Columbia.
LifeChanger of the Year is an annual program that recognizes and rewards outstanding K-12 educators and school district employees who make a difference in the lives of students by exemplifying excellence, positive influence and leadership.
"Mike is someone you want to have as a role model for students," said Mehran Assadi, President and CEO, National Life Group. "From teaching them the importance of academics to helping them see that future success, beyond high school, is possible with programs like Becoming A Man, Mike is changing lives."
At the beginning of this school year, McEachern, also known as Coach Mac, started a program called Becoming A Man (B.A.M). Once a month, this group brings young men, who may not have a male role model in their lives, together with volunteer dads, coaches and notable speakers for conversations about the future, life choices and success. Since its first meeting in the fall, the group has grown to 85 student attendees. Some of the notable speakers have included George Foreman IV and longtime KILT SportsRadio host John Lopez.
"All of us have talked about making a difference, but Coach Mac makes it happen," said Hargrave High School Principal Brandon Perry. "He is always there to counsel students and help them to make decisions that are right for them. He cares about every student."
Since Coach Mac has become the athletic director, the Girls Athletic Program has flourished, the football team has had several winning seasons and many students have been earning scholarships for college. All of the athletes are expected to attend weekly tutoring sessions and volunteer in the community.
"Coach Mac is the king of second chances," said Huffman ISD Athletic Trainer Riley Wheeler. "Kids are kids and they sometimes mess up. Mike is always willing to give someone a second chance to make a change in their lives. He believes in them and is there to help them."
As the National Grand Prize Winner, McEachern receives a $10,000 cash award, which is split between a $5,000 individual award and a matching $5,000 donation to Hargrave High School.
In addition to McEachern, individuals from nine other school districts around the country received LifeChanger of the Year awards:
First Runner-Up ($7,500 cash award split between the individual and the district)
Andrea Appleman, Science and Biology Teacher - Ada Junior High School - Ada, OK
Second Runner-Up ($5,000 cash award split between the individual and the school)
Kristin Kicklighter, English and History Teacher - Balfour Education Center - Hendersonville, NC
LifeChangers ($3,000 cash award split between the individual and the district)
Eric Nordbeck, Fourth Grade Teacher - West Palms Conservatory - Victorville, CA
Justin Zoellick, Fifth Grade Teacher - Clintonville Middle School - Clintonville, WI
Jenny Granger, Elementary School Librarian - Emerson Elementary School - Snohomish, WA
Julie Raynor, Speech-Language Pathologist - Reeths-Puffer Middle School - Muskegon, MI
Kathy Bosiak, High School Science Department Chair - Lincolnton High School - Lincolnton, NC
Katherine Villone, Fourth Grade Teacher - Franklin Elementary School - Bergenfield, NJ
Athena Davis, Adaptive Physical Education Teacher - Pendergrass-Fairwold School - Columbia, SC
LifeChanger of the Year award winners are selected based on the following criteria:
A proven ability to make a beneficial difference in the lives of students
An ability to positively add to the development of the school's atmosphere
A leader in his or her activities at the school and/or district level
A proven record of excellent peformance at the professional level
A commitment to produce a nurturing atmosphere
Winners are chosen by a National Life Group selection committee made up of previous LifeChanger winners. Nominations are submitted by students, parents, teachers and administrators. Nominees must be full-time K-12 educators, teachers, principals, or any member of the school's staff who makes a positive difference in the lives of students.
To view Mike McEachern's nominee profile, visit: http://lifechangeroftheyearnominees.com/2014/12/19/mike-mceachern/
To view a video of Mike McEachern, visit: Game Day Video
To learn more about the 2014-2015 award winners and nominees, visit: http://lifechangeroftheyearnominees.com/lcoy-winners-2014-2015/
---
National Life Group® is a trade name of National Life Insurance Company, Montpelier, VT, Life Insurance Company of the Southwest (LSW), Addison, TX, and their affiliates. LSW is not an authorized insurer in New York and does not conduct insurance business in New York. Each company of the National Life Group is solely responsible for its own financial condition and contractual obligations.
TC62397(0611)