Survey Finds Educators Spending More Time Year Round to Achieve Success Amid Financial Worry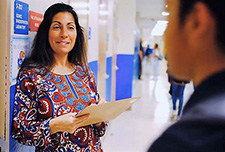 Montpelier, VT - (September 10, 2018) A national survey of teachers, administrators and other K-12 school employees found that educators dedicate extended hours during the school year and over summer break to student success while feeling unsure about retirement and stressed about personal finances.
Dedicating "extra" time
Three out of four (77%) respondents said they dedicate at least seven extra hours per week above and beyond the requirements of their position during the school year. More than half (57%) of respondents said they dedicate ten hours or more.
Nearly three out of four (74%) respondents also indicated that preparing for the upcoming school year would be one of their top activities during their summer break, while 54 percent identified professional development as a top activity. A higher percentage of millennial respondents planned to spend time over the summer preparing for the next school year than their older colleagues, at 85 percent compared to 70 percent.
"We hear many stories about the extra time and personal resources our LifeChangers invest in their students' success." said Mallorie Manosh, program director for LifeChanger of the Year at National Life Group. "These results highlight how committed they are, not only while school is in session, but all year round. They also show us how important it is for educators to take care of themselves along the way, especially in the face of professional and financial stress."
Concern about retirement and finances
Forty-three percent of all respondents said personal finances is their biggest stressor followed by time and prioritization (30%) work (13%), and health (6%).
Millennial educators are more stressed about retirement than their older colleagues. Sixty percent of educators under the age of 40 said that personal finances are their single greatest source of stress compared with 36 percent of educators aged 40 and over.
Although 62 percent of respondents plan to leave education after turning 60, more than half (55%) either don't believe they'll have a secure retirement or are unsure.
The majority (70%) of respondents are counting on their state pension plan as their main source of retirement income followed by 403b plans (47%), part-time work (46%), and other investments (41%).
Key to success
When asked what qualities make them successful, the top three responses were the desire to help others (65%), patience (50%), and a commitment to lifelong learning (43%).
To combat stress, educators have adopted a number of strategies to take care of themselves. When asked, "What do you do for you?" respondents identified reading, exercising, and spending time with family as their favorite ways to decompress.
"I have a list of ideas to care for myself spiritually, physically, mentally, emotionally, and with my health that hangs on my bathroom mirror. I try to apply one thing in each category every day," one respondent said.
ABOUT THE SURVEY
The third annual online survey was conducted by National Life Group Foundation's LifeChanger of the Year program in July 2018 and received 420 responses from teachers, educators, and K-12 school employees across the country. Sixty-seven percent of respondents identified as teachers or paraprofessionals, 12 percent identified as administrators, and 21 percent selected other options. Seventy-five percent of respondents have spent more than a decade in education, with 42 percent spending more than two decades.
Click here to view the full survey infographic.
ABOUT LIFECHANGER OF THE YEAR
Sponsored by the National Life Group Foundation, the national LifeChanger of the Year program recognizes and rewards the very best K-12 public and private school educators and employees across the United States who are making a difference in the lives of students by exemplifying excellence, positive influence and leadership. www.lifechangeroftheyear.com
At National Life, our story is simple: For more than 168 years we've worked hard to deliver on our promises to millions of people with our vision of providing peace of mind in times of need. It's our cause, stemming from a deep passion to live our values to do good, be good and make good, every day. Learn more at NationalLife.com.
National Life Group® is a trade name of National Life Insurance Company, founded in Montpelier, Vt., in 1848, Life Insurance Company of the Southwest, Addison, Texas, chartered in 1955, and their affiliates. Each company of National Life Group is solely responsible for its own financial condition and contractual obligations. Life Insurance Company of the Southwest is not an authorized insurer in New York and does not conduct insurance business in New York.
TC95211(0417)3