Sixth Annual Do Good Fest Raises $50,000 For Cancer Patients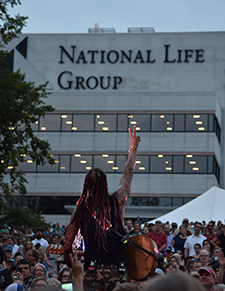 Montpelier, VT - (July 16, 2019) National Life's sixth annual Do Good Fest attracted an estimated 10,000 people on Saturday and raised $50,000 for cancer patients.
"We had an awesome crowd here on our hill this weekend to Do Good while also having a lot of fun," said Mehran Assadi, chairman, president and CEO of National Life. "We were thrilled that Michael Franti & Spearhead's message of hope and inspiration so closely matched our own corporate values."
With this year's $50,000 donation, Branches of Hope, the cancer patient fund at Central Vermont Medical Center, has received a total of $185,000 in contributions from the Do Good Fest since 2014. Patients who may be out of work while undergoing cancer treatment can draw money from the fund to help cover bills and unexpected expenses.
"A cancer patient has enough to worry about while they're recovering," Assadi said. "How to put food on the table or pay for a tank of gas shouldn't be among those worries."
The Point radio network is National Life's partner in staging the Do Good Fest each year. The festival's other sponsors are Seven Days, Harpoon Brewery and Montpelier Alive.
In addition to Michael Franti & Spearhead, this year's lineup featured Noah Kahan, along with Hailey Knox, Syd and SoundBrother.
National Life is here to bring you peace of mind. We've been keeping our promises since 1848. Believe in tomorrow, do good today. Learn more at NationalLife.com
Contact: Ross Sneyd, corporate communications, National Life Group, 802.229.3866.
National Life Group® is a trade name of National Life Insurance Company, founded in Montpelier, Vt., in 1848, Life Insurance Company of the Southwest, Addison, Texas, chartered in 1955, and their affiliates. Each company of National Life Group is solely responsible for its own financial condition and contractual obligations. Life Insurance Company of the Southwest is not an authorized insurer in New York and does not conduct insurance business in New York.
TC95211(0417)3