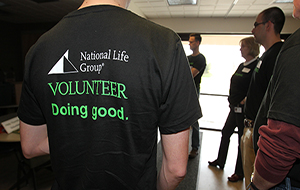 Management Encourages Other Companies to Do the Same
Montpelier, VT (April 1, 2015) - Senior executives at National Life Group challenged their peers at other companies in the region to follow their lead and volunteer at area nonprofits.
National Life's top executives will spend the morning on Friday volunteering at the Vermont Foodbank to demonstrate their commitment to the company's corporate values and to the goals of the Foodbank.
They expect to be packing and sorting food that will be distributed to senior centers, local food shelves or other hunger-relief agencies.
"We believe passionately in our values to Do good. Be good. Make good," said National Life Group President and CEO Mehran Assadi. "Volunteering in the community, just like hundreds of our employees do throughout the year, is just one more way of giving back."
National Life gives its employees 40 hours per year of paid time to volunteer at local nonprofits, the program that will be highlighted by the executive team on Friday.
The company also has a decades-long relationship with the Foodbank. Employees regularly volunteer to help pack food and the National Life Group Foundation supports the Foodbank's BackPack program, which ensures that families in need get nutritious food over the weekend when there is no access to free or reduced-price school lunches. And National Life Group is also the presenting sponsor of the Harpoon Point to Point bicycle ride, which last year raised more than $188,000 for the Foodbank.
Assadi encouraged other executives around the region to set similar examples by volunteering themselves at area nonprofits. "As leaders in the business community, we should demonstrate the importance of helping out when and where we can," he said.
When: Friday, April 3, 10:30 a.m.
Where: Vermont Foodbank, 33 Parker Road, Barre, VT
Contact: Ross Sneyd, 802-249-7506 (mobile)
The companies of National Life Group offer a broad range of financial products, including life insurance, annuities, and investments, and financial solutions in the form of estate, business succession and retirement planning strategies. They are a leading provider of 403(b) and 457(b) tax-deferred retirement plans, primarily in the K-12 school marketplace.
Vermont Foodbank is the state's largest hunger-relief organization, serving Vermont through a network of food shelves, meal sites, shelters, senior centers and youth programs. In FY2014, the Vermont Foodbank distributed nearly 9 million pounds of food to 153,100 Vermonters. The Vermont Foodbank, a member of Feeding America, is nationally recognized as one of the most effective and efficient nonprofits and food banks in the nation. Charity Navigator awarded the Vermont Foodbank four out of a possible four stars. Learn more at www.charitynavigator.org.
Contact: Ross Sneyd, corporate communications, National Life Group, 802.229.3866.
National Life Group ® is a trade name of National Life Insurance Company, Montpelier, Vt., Life Insurance Company of the Southwest, Addison, Texas, and their affiliates. Each company of National Life Group is solely responsible for its own financial condition and contractual obligations. Life Insurance Company of the Southwest is not an authorized insurer in New York and does not conduct insurance business in New York. Equity Services, Inc., Member FINRA/SIPC, is a Broker/Dealer and Registered Investment Adviser affiliate of National Life Insurance Company. All other entities are independent ofEquity Services, Inc.
TC79600(0514)3