School Resource Officer for Greater Jasper Consolidated Schools Wins National LifeChanger of the Year Spotlight Award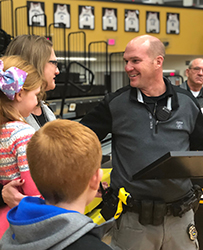 Jason Knies receives $5,000 award at surprise ceremony from National Life Group's LifeChanger of the Year program
Jasper, IN - (November 21, 2019) Jason Knies, school resource officer at Jasper High School was named 2019-20 LifeChanger of the Year Spotlight Award recipient during a surprise ceremony in his school gymnasium on Thursday morning. There were approximately 1,200 attendees, including district superintendent Dr. Tracy Lorey.
Sponsored by the National Life Group Foundation, LifeChanger of the Year recognizes and rewards the very best K-12 educators and school district employees across the United States who are making a difference in the lives of students by exemplifying excellence, positive influence and leadership.
Knies was honored for his relentless work ethic, integrity, and dedication to his community. He instructs every student to "see or hear something, say something." Due to his unique ability to connect with students, they feel comfortable confiding in him about potentially dangerous situations.
Knies wears many hats in his role as school resource officer. He is willing to step up for any task, including driving bus routes, teaching self defense and D.A.R.E classes, and creating an after-school archery club. He also spearheaded "Law and Let's Order," a popular program celebrating positive student behavior. Each month, a few students are chosen by this program to receive the opportunity to eat lunch with Knies.
"I nominated [Jason] because he is one of those rare individuals who truly goes above and beyond on a daily basis," said Glenn Buechlein, Director of Transportation and Student Services. "I cannot recall a single instance where he turned away someone who was in need. I can think of no one more deserving of an award based upon serving others. Spotlighting these quiet heroes inspires all of us as we aspire to model what they do."
As the Spotlight Award recipient, Knies received a $5,000 cash prize, comprised of a $2,500 individual award and a $2,500 donation to Greater Jasper Consolidated Schools. The award was presented by LifeChanger of the Year representatives Mallorie Manosh and Joe Bousquet.
"The Spotlight Award is our chance to hone in and celebrate a specific K-12 discipline or role each year," said Manosh. "This year, we chose to highlight the work of school safety champions – those who make learning environments safer for students and educators. Officer Knies is a positive role model and mentor to every student, especially those who may be in need of extra support. He undoubtedly embodies what a school safety champion is, and we were thrilled to honor him."
"I want to congratulate Officer Jason Knies on receiving the LifeChanger or the Year Award," said Indiana State Superintendent Dr. Jennifer McCormick. "Officer Knies has exemplified excellence, while serving as a positive influence in the lives of students under his care. Officer Knies' leadership is an example we all should follow."
For more information, please visit Knies' LifeChanger of the Year profile.
About LifeChanger of the Year
Each school year, LifeChanger of the Year receives hundreds of nominations from all 50 states and the District of Columbia. In addition to the Spotlight Award, an additional sixteen individual LifeChanger of the Year awards will be given during the 2019-2020 school year.
(1) Grand Prize Winner – will receive $10,000 to be shared with their school/district.

(4) Grand Prize Finalists – will receive $5,000 to be shared with their school/district.

(10) LifeChanger Award Winners – will receive $3,000 to be shared with their school/district.

(1) Spirit Award Winner – This award is given to the nominee whose community demonstrates the most support for their nomination. The winner will receive $5,000 to be shared with their school/district.
Winners are chosen by a selection committee comprised of former winners and education professionals. Nominees must be K-12 teachers or school district employees. To be considered for an award, nominees must:
Make a positive impact in the lives of students

Enhance their school or district's atmosphere, culture and pride

Demonstrate exemplary leadership at the school and/or district level

Possess a proven record of professional excellence

Show commitment to building a nurturing environment that supports learning

Adhere to the highest moral and ethical standards
Nominations for the 2019-2020 school year are being accepted until December 31, 2019. All nominees submitted prior to the deadline are eligible to be selected for the national $10,000 Grand Prize and additional cash awards. These awards will be announced in early 2019. To nominate a K-12 educator or school employee, please visit www.lifechangeroftheyear.com.
In addition to LifeChanger of the Year, National Life Group is also a founding sponsor of the National Coalition for Safe Schools (NCSS), a teacher-led initiative that believes the best way to create safer and healthier schools and communities is to proactively address the root causes of violence and other negative behaviors. NCSS empowers America's teachers to play a leadership role in bringing practical, effective approaches directly into classrooms and school communities that focus on the needs of the whole child and support existing curricula and policy. For more information, please visit www.notinmyschool.com.
National Life Group® is a trade name representing various affiliates, which offer a variety of financial service products.
TC111321(1119)1