Ryan Moratti Receives PRIDE Award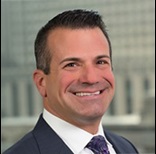 Montpelier, VT - (August 21, 2018) Moratti, who is General Agent of National Life Group's Chicago agency – Lakeshore Financial Group – received the award at the company's annual President's Club conference, held in Bermuda.
The PRIDE award recognizes the General Agent or General Manager who achieves top honors in five categories: production, recruiting, inspiration, dedication and excellence. The winner is based on voting among the firm's General Agents throughout the country.
"Ryan is a consummate financial professional and we were all very pleased to see the votes turn out for him and his stellar team out there in the Windy City." said Pam Blalock, National Life's Senior Vice President, Career Distribution. "This award marks Ryan's long-standing dedication and leadership, which are inspirations to everyone committed to serving the needs of families, individuals, and business owners throughout the country."
Moratti was raised in Berkeley, IL, and earned a Bachelor of Science degree in business administration and finance from Valparaiso University, where he also lettered in baseball.
Throughout his more than two decades of financial services experience, Moratti has earned many achievement awards, including membership to the prestigious Million Dollar Round Table in 2000 and 2001, Sales Manager of the Year in 2011, and the Brian H. Early Award in 2012. He also holds several professional designations as well as registrations with the Financial Industry Regulatory Authority (FINRA).
Moratti was appointed General Agent of National Life Group's Chicago agency in 2016.
"This award is a huge honor for me and my team, especially because it represents recognition from our peers, whom we respect and admire," said Moratti. "For me and many of my associates, Chicago is our native home, and we are truly grateful to be recognized for serving such a wonderful community."
In addition to his professional work, Moratti is a volunteer and member of the Chicagoland Italian-American Charitable Organization (CIACO), Dads Appreciating Down Syndrome (D.A.D.S.), and the Knights of Columbus. He and his wife Tammy reside in Elmhurst, IL, with their children, Annabella and Giada.
At National Life, our story is simple: For more than 168 years we've worked hard to deliver on our promises to millions of people with our vision of providing peace of mind in times of need. It's our cause, stemming from a deep passion to live our values to do good, be good and make good, every day. Learn more at NationalLife.com.
Contact: Ross Sneyd, corporate communications, National Life Group, 802.229.3866.
Ryan Moratti is a Registered Representative and Investment Adviser Representative of, and securities and investment advisory services are offered solely by Equity Services, Inc. (ESI), Member FINRA/SIPC, 123 N. Wacker Drive, Suite 600, Chicago, IL, 60606. (312) 236-2500. ESI is a Broker/Dealer and Registered Investment Adviser affiliate of National Life Insurance Company. Lakeshore Financial Group and all other entities are independent of ESI unless otherwise indicated. Awards are partially based on sales results.
National Life Group® is a trade name of National Life Insurance Company, founded in Montpelier, Vt., in 1848, Life Insurance Company of the Southwest, Addison, Texas, chartered in 1955, and their affiliates. Each company of National Life Group is solely responsible for its own financial condition and contractual obligations. Life Insurance Company of the Southwest is not an authorized insurer in New York and does not conduct insurance business in New York.
TC103628(0818)1