Industry Veteran Will Develop Innovative New Life & Annuity Initiative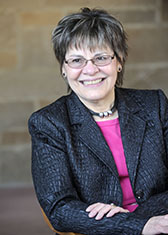 Montpelier, VT (January 6, 2016) - Ruth Smith, National Life Group executive vice president, has been tapped to lead the company's new Customer Innovation Group, an innovative initiative that unifies the company's life insurance and annuity operations.
National Life President and CEO Mehran Assadi, in announcing the appointment, praised Smith for her 17-year tenure record of creativity and accomplishment at National Life as one of the company's most thoughtful leaders.
"Ruth's knowledge of the business is just one part of the reason for her success," Assadi said. "What makes Ruth so unique is her love of our business and its purpose, her understanding of our operations, her passion for the field, the people who represent National Life across the country, and her commitment to our home office teams. Her optimism infects us all."
Smith joined National Life in 1999, and played a key leadership role in creating the company's first field force of independent agents who sold National Life Group life insurance products. Ten years later, she took over as head of National Life's Protection Division, leading all aspects of the life insurance business.
In her new role, she will take charge of both the life insurance and retirement operations, strategy, project delivery and IT. "The new organization will be responsible for every step of our customers' experience, from their welcome to the company through the final disposition of their contract or policy,"Assadi said.
Smith holds undergraduate and MBA degrees from the University of Hartford. Over her career, she has earned her CLU, ChFC and FLMI designations. She also holds her Series 6 and 26 registrations with FINRA.
The companies of National Life Group offer a broad range of financial products, including life insurance, annuities, and investments, and financial solutions in the form of estate, business succession and retirement planning strategies. They are a leading provider of 403(b) and 457(b) tax-deferred retirement plans, primarily in the K-12 school marketplace.
Contact: Ross Sneyd, corporate communications, National Life Group, 802.229.3866.
National Life Group ® is a trade name of National Life Insurance Company, Montpelier, Vt., Life Insurance Company of the Southwest, Addison, Texas, and their affiliates. Each company of National Life Group is solely responsible for its own financial condition and contractual obligations. Life Insurance Company of the Southwest is not an authorized insurer in New York and does not conduct insurance business in New York. Equity Services, Inc., Member FINRA/SIPC, is a Broker/Dealer and Registered Investment Adviser.
TC88181(1016)1