Robert Cotton Appointed Chief Operating Officer; Sarah VanBeck Becomes Chief Financial Officer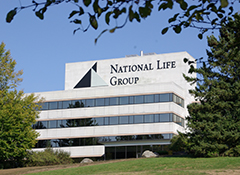 Montpelier, VT - (August 6, 2018) Robert Cotton was appointed Chief Operating Officer of National Life Group and Sarah VanBeck was promoted to Chief Financial Officer.
Mehran Assadi, Chairman, CEO and President, said the appointments reflect National Life's continued success and focus on the future.
"We are a different company than we were just a few short years ago," Assadi said. "In the past 10 years we have doubled our core earnings, our assets under management and our capital. In the last five years we have doubled our sales. Now we need to make sure our organization's leadership structure reflects this strong growth and supports our future opportunities."
Cotton will be responsible as COO for executing National Life's operational plans and developing strategic plans, ensuring alignment between the two.
"He will lead our efforts to ensure we have adequate capital for our future growth," Assadi said. "In addition, he will continue to oversee the company's financial, investment, and risk management functions."
As CFO, VanBeck will oversee National Life's accounting, tax, financial planning and reporting, and corporate development and areas, as well as treasury.
Cotton has been with National Life since 1993, when he joined the company as staff auditor. He served for six years as Treasurer and in 2011 was appointed Senior Vice President and CFO. He was promoted to Executive Vice President in 2014. Cotton is a graduate of Clarkson University and holds a master's of business administration from the University of Vermont.
Prior to joining National Life he was an accounting manager at Library Bureau Inc. and was a senior accountant at Coopers & Lybrand.
VanBeck joined National Life last year as Chief Accounting Officer. She has spent 25 years in the insurance industry and was most recently at AIG, where she was Senior Vice President and Controller at AIG Life and Retirement. VanBeck is a graduate of the University of Iowa and is a certified public accountant.
She began her career as manager of SEC reporting and analysis at American General Corp.
At National Life Group, our cause is to create positive change in people's everyday lives. From our products and services to all the good we do in our communities, we dedicate ourselves to ensuring a better future – one person at a time. Learn more at NationalLife.com.
Contact: Ross Sneyd, corporate communications, National Life Group, 802.229.3866
National Life Group® is a trade name of National Life Insurance Company, founded in Montpelier, Vt., in 1848, Life Insurance Company of the Southwest, Addison, Texas, chartered in 1955, and their affiliates. Each company of National Life Group is solely responsible for its own financial condition and contractual obligations. Life Insurance Company of the Southwest is not an authorized insurer in New York and does not conduct insurance business in New York. Guarantees are dependent on the claims paying ability of the issuing company.
TC102401(0818)1