Phillip Phillips Will Headline 5th Annual Do Good Fest Benefit Concert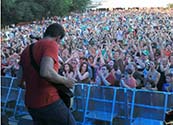 Montpelier, VT - (May 8, 2018) Singer-songwriter Phillip Phillips, who recently released the new album "Collateral," will headline the fifth annual Do Good Fest on July 14, a free benefit festival that raises money for cancer patients.
Phillips, well known for launching a successful musical career after winning the "American Idol" television competition six years ago, is in the midst of "The Magnetic Tour" to support his new album.
"Phillip Phillips is a great talent and we're delighted to welcome him to our stage," said Mehran Assadi, National Life's chairman, CEO and president. "He supports worthy causes, too, through his work with Brave Beginnings, a nonprofit supporting premature newborn infants. We share his passion to Do Good in the world. That's why we're humbled to raise money so cancer patients' journey through treatment is a little easier."
The Point, Independent Radio, shares the cause. "We are very excited about the lineup this year and honored to again be involved in Do Good Fest," said John Mullet, Program Director at The Point. "It's a wonderful synergy when our community is delivered such a great event while at the same time helping such a wonderful cause."
National Life's Do Good Fest Presented by The Point raises money for Branches of Hope, the cancer patient fund at Central Vermont Medical Center. In the first four years of the festival, $93,000 has been raised for Branches of Hope, which provides money to patients undergoing cancer treatment for routine and unexpected expenses such as housing, transportation, medical and other services as basic as paying for home heating oil.
The Do Good Fest – featuring food trucks, a beer tent, a nonprofit village and children's activities in addition to music and fireworks – is free. Parking is $20 per vehicle in advance and $25 on the day of the show. All of the proceeds are donated directly to Branches of Hope.
Phillips will headline the show and will be preceded to the outdoor stage on National Life's lawn by Serena Ryder, who also has a new album out; Syml, currently on tour to support his debut album; Caitlin Canty, a West Rutland native who was recently featured in Rolling Stone Magazine as a rising star; and Chad Hollister, a Vermont resident who will be concluding his current tour in his hometown.
The Point radio network is National Life's partner in staging the Do Good Fest. Co-sponsors are the National Life Group Foundation, Harpoon Brewery and Montpelier Alive. More details are on the Do Good Fest website or at info@DoGoodFest.com.
At National Life Group, our cause is to create positive change in people's everyday lives. From our products and services to all the good we do in our communities, we dedicate ourselves to ensuring a better future – one person at a time. Learn more at NationalLife.com.
Contact: Ross Sneyd, corporate communications, National Life Group, 802.229.3866.
National Life Group® is a trade name of National Life Insurance Company, founded in Montpelier, Vt., in 1848, Life Insurance Company of the Southwest, Addison, Texas, chartered in 1955, and their affiliates. Each company of National Life Group is solely responsible for its own financial condition and contractual obligations. Life Insurance Company of the Southwest is not an authorized insurer in New York and does not conduct insurance business in New York.
TC95211(0417)3