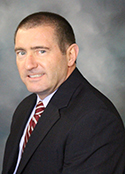 Montpelier, VT (June 3, 2015) - Paul Greene, a leader in the underwriting industry, has joined National Life Group as vice president and chief underwriter.
Greene has worked in leadership roles for several companies over a 29-year career.
"Paul is an experienced underwriting leader in our industry with a proven track record in brokerage, career distribution, as well as the reinsurance marketplace," said William Whitsell, National Life senior vice president.
Prior to joining National Life, Greene was the chief underwriter at Liberty Life Assurance Co., where he managed the underwriting team. He was also previously vice president and co-head of life underwriting at New York Life Insurance Co., in addition to management positions with other insurance and reinsurance companies.
Greene is currently the president of the Impaired Risk Underwriting Association as well as a member of the MIB Advisory Council.
The companies of National Life Group offer a broad range of financial products, including life insurance, annuities, and investments, and financial solutions in the form of estate, business succession and retirement planning strategies. They are a leading provider of 403(b) and 457(b) tax-deferred retirement plans, primarily in the K-12 school marketplace.
Contact: Ross Sneyd, corporate communications, National Life Group, 802.229.3866.
National Life Group ® is a trade name of National Life Insurance Company, Montpelier, Vt., Life Insurance Company of the Southwest, Addison, Texas, and their affiliates. Each company of National Life Group is solely responsible for its own financial condition and contractual obligations. Life Insurance Company of the Southwest is not an authorized insurer in New York and does not conduct insurance business in New York. Equity Services, Inc., Member FINRA/SIPC, is a Broker/Dealer and Registered Investment Adviser affiliate of National Life Insurance Company. All other entities are independent of Equity Services, Inc.
TC79600(0514)3