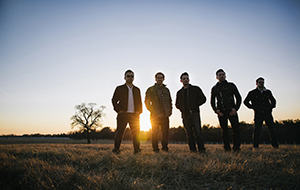 The Day of Music, Food & Family Activities Will Benefit Cancer Patient Fund
Montpelier, VT (May 29, 2015) - O.A.R., a rock band renowned for its extensive touring and incredible live shows, will headline Do Good Fest 2015 on July 18 at the Montpelier headquarters of National Life Group. The Alternate Routes will also be on the lineup.
The Point Radio Network and National Life are presenting the Do Good Fest for the second year to benefit Branches of Hope, the cancer patient fund at Central Vermont Medical Center.
O.A.R. is currently touring and will release "Rockville LP" early next month. The new single "Peace," which is on the album, is part of the tour.
"We're very excited that a band with such a well-deserved reputation for live performances and with such a devoted fan base will headline our second annual Do Good Fest," said National Life CEO & President Mehran Assadi.
Zeb Norris, The Point's Program Director, said O.A.R is sure to be a big crowd pleaser "The guys in O.A.R. are awesome entertainers who can headline Madison Square Garden,"Norris said. "But they bent over backwards to do The Do Good Fest to help out with the great cause of supporting Branches of Hope and the Cancer Patient Fund at Central Vermont Medical Center. This promises to be a spectacular show, with our friends The Alternate Routes joining us, too!"
The Alternate Routes also has a loyal following and has toured across the country, as well as Canada and Europe.
The Do Good Fest is sponsored by National Life, The Point, Seven Days, Montpelier Alive and the National Life Group Foundation. The inagural Do Good Fest last year raised nearly $11,000 for Branches of Hope and organizers are hoping to do even better this year.
The event is held on the sloping lawn of National Life. Admission is free, but there is a parking fee of $10 per vehicle before 5 p.m. and $20 per vehicle after 5. All parking proceeds go to Branches of Hope.
The festival gets under way at 3 p.m. with children's activities. Music from the main stage starts at 4. Three other bands in addition to O.A.R. will perform. There will also be food trucks, a beer tent and a nonprofit village for area charitable organizations to share their messages.
For more details, visit the Do Good Fest website or email info@DoGoodFest.com.
TC79600(0514)3