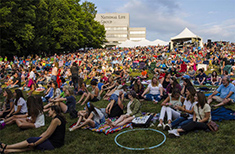 Montpelier, VT (January 30, 2019) -A new corporate social responsibility report published by National Life aims to take a much more holistic view of the company's sustainability efforts.
The company defines its social responsibility broadly in the report by including how it conducts its core business as a key measure of how well it is embodying its values.
"For us, corporate responsibility isn't a series of statistics about how much fuel oil we burn to heat our building or how much hot water we save with efficient fixtures," said Mehran Assadi, National Life's Chairman, CEO and President. "What is central to us is to live our values every day, in every transaction and in every interaction. Those values are this: Do good. Be good. Make good. Just six words, but a vivid picture of our cause."
Assadi said that social responsibility is fundamental to the life insurance and annuity products National Life has sold for more than 170 years.
As an example, the report details how National Life maintains lifelong commitments with its customers. Between 2012 and 2017, National Life paid out death claims on 2,358 policies that were at least 50 years old, including 49 policies dating to the 1930s.

"Those are people who have trusted us for more than 50 years," said Ann Rangaviz, head of claims. "And we are keeping those promises."
Additionally, the report outlines how National Life invests its assets in socially responsible ways to ensure that the money it holds to pay future claims is sustainable. The company's investments in solar power, for example, grew to $355 million last year and wind power investments grew to $127 million. And National Life's investments in affordable housing tax credits grew from $40 million to $165 million over the past 10 years.

The company's investment in its charitable foundation is also outlined. The National Life Group Foundation's budget doubled to $2 million in 2018.

"A 100 percent increase has enabled the foundation to greatly increase its impact – and for the first time to take on a lead role in collaborating with a number of organizations on a chosen cause," said Beth Rusnock, foundation president. The cause that is being championed is ending childhood hunger in Vermont.

"We know there is more we can do and we're all striving to do better," Assadi said. "But we're very proud of all you'll find this report. I'm confident our founder Julius Dewey would be, too."
National Life has been keeping our promises since 1848. We're here to bring you peace of mind. Believe in tomorrow, do good today. Learn more at NationalLife.com.
Contact: Ross Sneyd, corporate communications, National Life Group, 802.229.3866.
National Life Group® is a trade name of National Life Insurance Company, founded in Montpelier, Vt., in 1848, Life Insurance Company of the Southwest, Addison, Texas, chartered in 1955, and their affiliates. Each company of National Life Group is solely responsible for its own financial condition and contractual obligations. Life Insurance Company of the Southwest is not an authorized insurer in New York and does not conduct insurance business in New York.
TC95211(0417)3