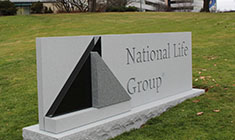 Montpelier, VT (August 11, 2016) - The financial strength rating for National Life Group's insurance companies was boosted by Standard & Poor's on Friday based on the company's improved capital strength and stronger credit quality.
S&P Global Ratings formally raised the rating of National Life Insurance Company and Life Insurance Company of the Southwest to "A+" from "A." At the same time, SP Global raised its issuer credit rating on NLV Financial Corp., National Life's holding company, to "BBB+" from "BBB."
S&P praised National Life's focus on the fundamentals. "The upgrade is based upon our view that NL Group has improved its capital strength, resulting in stronger credit quality," S&P said.
"We now view the insurer's financial risk profile as extremely strong, compared to our prior opinion of very strong. Over the past few years, NL Group has organically grown its capital, more effectively managed its investments in structured securities, and successfully completed a closed block reinsurance transaction. We view the improved capital position as sustainable."
S&P said National Life's "business risk profile remains strong" and noted that premiums and deposits are almost evenly split between protection and retirement savings.
The outlook by S&P was listed as stable and "reflects our expectation that NL Group will continue to demonstrate a strong business risk profile encompassing engaged and productive distribution and favorable operating performance."
At National Life, our story is simple: For more than 167 years we've worked hard to deliver on our promises to millions of people with our vision of providing peace of mind in times of need. It's our cause, stemming from a deep passion to live our values to do good, be good and make good, every day. Learn more at NationalLife.com.
Contact: Ross Sneyd, corporate communications, National Life Group, 802.229.3866.
National Life Group® is a trade name of National Life Insurance Company, Montpelier, Vt., founded in 1848, Life Insurance Company of the Southwest, Addison, Texas, chartered in 1955, and their affiliates. Each company of National Life Group is solely responsible for its own financial condition and contractual obligations. Life Insurance Company of the Southwest is not an authorized insurer in New York and does not conduct insurance business in New York.
TC91495(0816)1